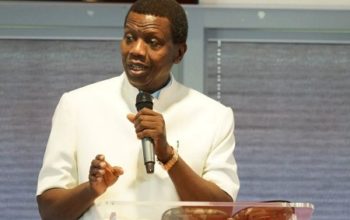 By Bolaji Akinola
Are all men created equal? Perhaps, but all men are not equal.
When the job of Pastor Adeboye and a handful of other big men of God was on the line, government took immediate action but for more than two years, over 500,000 jobs have been on the line in the maritime sector without as much as an expression of concern from the same government, which rode to power on the wings of the masses.
The gist bout town is that the sack of Adeboye and others by Jim Osayande Obazee, the Executive Secretary/Chief Executive of the Financial Reporting Council of Nigeria (FRCN) until last Tuesday, was nothing but a vindictive action. Obazee, according to the rumour mills, was a pastor in Adeboye's Redeemed Christian Church of God before his appointment into the FRCN position. He reportedly had an axe to grind with the revered General Overseer Adeboye and had vowed to get him to step down at all cost.
Until 2014 when the battle for Aso Rock thickened, very little was known of the Financial Reporting Council until it was found to be a useful tool against the then irrepressible Governor of the Central Bank of Nigeria, Sanusi Lamido Sanusi by the goons in Goodluck Jonathan's administration.
Jonathan suspended Sanusi from office citing the council's 13-page report, which was freely circulated to the media on February 21, 2014. FRCN accused Sanusi of committing acts of financial recklessness and misconduct that were inconsistent with the vision of the apex bank.
The Council claimed that Sanusi spent a whopping N1.257 billion for lunch for policemen and private guards in 2012. It also alleged that Sanusi made bogus payments to airlines for currency distribution as well as held an account balance of N1.423 billion for an unidentified customer since 2008. It further accused Sanusi of "a clear display of incompetence, nonchalance, fraud, wastefulness, abuse of due process and deliberate efforts to misrepresent facts".
The fiery apex bank governor was also accused of violating financial regulations and carrying out activities with financial implications not related to CBN's mandate.
Obazee's report was handy in throwing Sanusi out of his job. He must have thumped his chest and vowed to cleanse Nigeria of all "enemies of government". He felt so powerful and arrogant he ignored a directive by his supervising Minister, Okechukwu Enelama, to suspend implementation of the so-called corporate governance code which stipulated a term of 20 years for heads of not-for-profit organisations – including churches and mosques. It was the implementation of the code that threw Adeboye, who has been in charge of RCCG for 35 years – out of job.
The Vice President is an RCCG Pastor. Enelamah is an RCCG Pastor. Even Buhari had gone – during the campaign for Aso Rock – to kneel before Adeboye for his blessings. Obazee, in search of relevance and in pursuit of self-serving agenda, had pushed his luck too far. Less than 24 hours after Adeboye announced his replacement in RCCG, government fired Obazee and suspended the contentious code.
The Buhari administration's swift response to the RCCG debacle clearly indicates that it can take prompt action if it so desires. It should therefore go beyond saving the jobs of only big men. It should save the jobs of common men also. The common man at the port is groaning. More than 500,000 citizens have lost their means of livelihoods due to ill-conceived and self-serving policies like the one Obazee tried to enforce.
A few days ago, the Maritime Workers Union of Nigeria said more than 6,000 of its members have been thrown into the labour market largely due to some fiscal policies of government including the hike in import duty on vehicles, the rice policy and the fish quota system.
Buhari's government is certainly not unaware that the inhuman hike in the import duty of vehicles has taken the prices of cars astronomically high and out of the reach of ordinary Nigerians and has inflicted untold hardship on the people. It has also fuelled smuggling of cars through the nation's highly porous borders. Before the hike in duty, about 400,000 units of vehicles were handled annually at Nigerian seaports. This has dropped to about 95,000 units per annum while a large quantum is landed at the Ports of Cotonou from where they are smuggled into Nigeria, thereby shortchanging the Nigerian government and private businesses at the port of much needed revenue. This has resulted in the reduction of workers by some terminal operators and lower duty collection by the Nigeria Customs Service.
The ban on importation of vehicles through the land border is insufficient to check smuggling or cushion the hardship inflicted on Nigerians; only a reduction on the import duty to 10 per cent will.
Copyright Ships & Ports Ltd. Permission to use quotations from this article is granted subject to appropriate credit given to www.shipsandports.com.ng as the source.