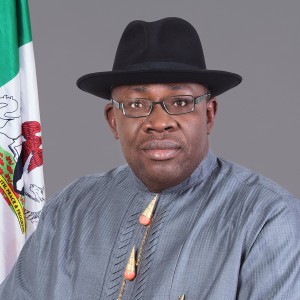 Bayelsa State Governor, Seriake Dickson says investment in the agriculture sector is the only alternative that could take Nigeria out of its current recession, instead of dependence on oil.
Dickson said this during the 21st Farmers' Day celebration under the auspices of Nigerian Agip Oil Company's (NAOC) Green River Project (GRP) at Igbogene, a suburb in the outskirts of Yenagoa.
The governor, represented by his deputy, Rear Admiral John Jonah (rtd.), called on Nigerians to embrace agricultural revolution sweeping across states of the nation, as a way of realising sustainable socio-economic development.
"I was very impressed with what I saw here because it is in line with what Bayelsa state government stands for.
"With this, I state that there is no other way to go in this country today. The only route to go to achieve prosperity is self-reliance in farming.
"These actions by Agip will not only get our farmers empowered but also trained; it is very commendable; and I urge you to continue with it.
" A good head with a good heart is what we need to move forward. 'Thankfully, Agip has a good head and heart and thus they gave to us.
They have assisted in training and also empowering our young and old men and women who were once focused on oil as the only source of living and I am certain that they are benefiting from it today.
The governor implored all to embrace the emergence of agricultural revolution, saying "we have the farms for it and the mechanized aspect has been inculcated in them."
He promised partner Agip that he had seen the company's interest and zeal to advance the agriculture revolution of the country as well benefits the people had derived from its gesture over the years.
In his remarks, the Vice-Chairman and Managing Director, NAOC, Massimo Insulla, said the annual Farmers' Day was set aside by the company and its joint venture partners to celebrate the achievements of farmers in the previous planting season.
Insulla, who said the celebration was the second in a row being hosted in Bayelsa, noted that for the past 30 years, the GRP had continued to record huge success.
According to him, the programme had become a prime source of employment and improvement of standard of living for various communities.
He said the project had also served as a veritable tool for sustainable development and food sufficiency in its operational areas within the Niger Delta region.