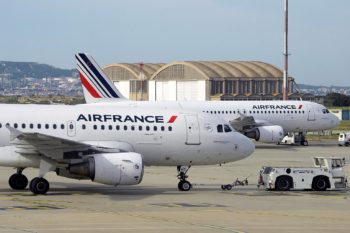 Air France-KLM shares suffered their biggest one-day fall in a decade on Monday after its Chief Executive Officer, Jean-Marc Janaillac, announced his resignation following the rejection of a pay deal by the airline's staff.
Janaillac's attempt to cut costs at the airline to keep up with competition from budget airlines and Gulf rivals ran into strong union resistance, as had his predecessor's efforts, raising questions over its ability to reform.
Air France-KLM's board will decide on a management transition plan on May 15. The government over the weekend said the French state, the largest shareholder with a 14 percent stake, would not ride to the airline's rescue.
Air France-KLM shares fell as much as 14.3 percent to an intraday low of 6.93 euros ($8.30) in early trading, around at their lowest level since April 2017. The stock was down 13.3 percent at 7.02 euros by 0810 GMT.
Janaillac's looming departure after his high-stakes gamble to put the pay offer to a vote by all employees backfired was the worst possible outcome, analysts at brokerage Bernstein said.
"This leaves the company with no CEO, no labour contract, an ongoing dispute, and likely emboldened unions which will be even less likely to concede on their demands, now," Bernstein analysts said in a note.
Air France said 15 percent of its flights would be cancelled on Monday as pilots and cabin crew went on strike over the pay dispute for a 14th day since February.
Air France-KLM shares are down almost 50 percent since the start of 2018, versus a 3.7 percent gain on the broader Paris SBF-120.BF120 index and a 4 percent fall on the pan-European STOXX 600 Travel & Leisure index .SXTP.
A wave of strikes at Air France has so far cost the company €300 million.
Finance Minister, Bruno Le Maire, on Sunday urged the company and workers to resume talks, delivering a blunt assessment of the airline's future.
"If Air France does not become more competitive … (it) will disappear," he told BFM television.
Italy's Alitalia last May filed to be put under special administration for the second time in less than a decade, starting a process that will lead to the loss-making airline being overhauled, sold off or wound up.
French unions have complained that the company's management is not serious about negotiations.
"The absence of any dialogue is clear. No one has called me this weekend. There are still no meetings planned for further negotiations," Philippe Evain, leader of the SNPL pilots union told RTL radio.
Air France management had offered workers a salary increase of 2 percent in 2018 and a further 5 percent over the following three years.
The unions have demanded 5.1 percent this year. After negotiations reached deadlock, Janaillac called a vote last Friday, the results of which went against him.
Agency Report