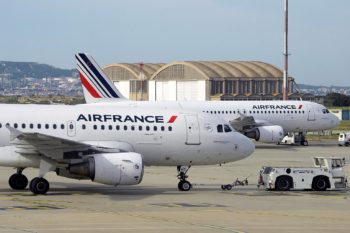 Air France unions leading a strike over wage demands, on Wednesday agreed to meet management for further negotiations after the airline improved its salary offer.
The industrial action by Air France pilots, cabin crew and ground staff has so far cost the airline €170 million ($210 million) and contributed to travel disruption in the country at a time rail workers are also protesting against planned reforms.
A pilots' union official said talks were slated for Thursday and that a notice for future strikes could be withdrawn if a suitable pay offer was forthcoming.
Air France raised its 2018 pay offer to the unions late on Tuesday to 2 percent – double its previous offer but still well below unions' demands for a 6 percent increase.
Air France said it expected to run 70 percent of its scheduled flights on Wednesday; the seventh day company staff have walked out.
The head of the overall Air France KLM group had earlier denounced the unions' demands for a 6 percent pay increase as unrealistic.
"The offer made by the management of Air France is both strong and reasonable," Air France KLM's Chairman and Chief Executive, Jean-Marc Janaillac, told Europe 1 radio on Wednesday.
"It would be irresponsible if the trade unions did not enter into talks, now that the management has held out its hand to them," said Janaillac, who also reiterated that the unions' demands for a 6 percent rise were "unrealistic."
Agency Report