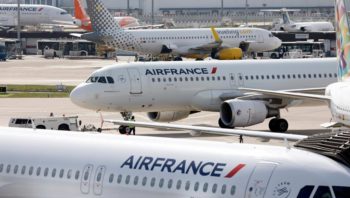 Hundreds of Nigerians on board Air France aircraft from and to Lagos and Abuja, have since Wednesday been stranded at Charles De Gaulle International Airport, Paris.
Reports say many of them have had to sleep at the airport since Wednesday, owing to what Air France claimed as malfunctioning of their planes and lack of aviation fuel.
Some of the passengers had left Lagos and Abuja for various destinations while many were returning to Lagos from various countries en route the Charles de Gaulle Airport in Paris.
Air France, which said their planes could not fly, was scrambling for hardly available seats in other airlines in alliance with them to fly the passengers to their destinations.
Many of the passengers, who in their bookings had about three to five hours layover in Paris were left stranded spending 17 to 48 hours at the airport.
Some, who were lucky to get the seats in the allied airlines were rerouted and had to spend additional several hours to get to their destinations.
Many of the passengers complained of ill-treatment and alleged violation of standard aviation regulatory operations against the airline.
Agency Report