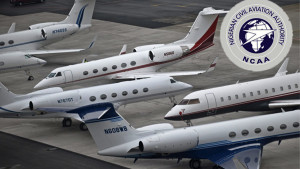 The Nigerian Civil Aviation Authority (NCAA) says it has intensified surveillance on all operating airlines following minor and major incidents that occurred recently in the sector.
Director-General of NCAA, Capt. Muhtar Usman, made this known on Wednesday while speaking with journalists at the Murtala Muhammed Airport (MMA), Lagos.
He said that the NCAA's inspectors were now monitoring activities of the airlines, particularly at the ramp areas, stressing that the regulatory authority would continue to sustain and improve on the current safety level in the industry.
Usman said the NCAA was learning from the recent major and minor incidences that occurred in the country's aviation industry within the year.
According to him, the lessons learnt from the incidents will be put to use to prevent major calamities from happening in the industry.
Usman said, "The year 2018 has been turbulent in the global aviation industry generally with incidences and accidents.
"The NCAA will continue to sustain and improve on the safety level in the past years while the safety recommendations of Accident Investigation Bureau (AIB) will be followed to the letter in order to improve safety in the system.
"We will continue to adhere strictly to the eight critical elements of the International Civil Aviation Organisation (ICAO) in order to prevent an accident from happening in the system."  Meanwhile, China's commerce ministry on Wednesday said it has initiated a World Trade Organization (WTO) dispute procedure against the U.S. 301 tariffs investigation, amid an escalating trade dispute between the world's two largest economies.
China earlier on Wednesday said it would impose new tariffs on 106 U.S. products ranging from autos, soybean and whisky worth $50 billion of 2017 imports, countering a U.S. announcement of tariffs on an estimated $50 billion worth of Chinese goods.