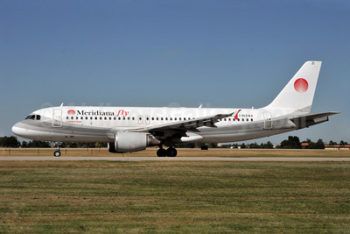 There was a mild drama at the Murtala Muhammed International Airport (MMIA) in Lagos on Tuesday when an Italian airline, Air Meridien allegedly abandoned 40 passengers at the airport.
However the Nigeria Civil Aviation Authority (NCAA) said the affected passengers missed their flights for arriving late to the airport.
It was learnt that the passengers were prevented from check-in by the airline's staff. There were fears among the passengers that they were abandoned because of over-booking.
The stranded passengers reportedly came from Edo, Delta, Abia, Anambra states, among others hoping to board the flight to Milan, the airline's base on Tuesday.
To their dismay, the flight had departed before they arrived at the airport.
An in-house official at the airport insisted that the flight was over-booked by Air Meridien, making it impossible to airlift all the passengers.
Air Meridien operates two flights weekly on Tuesdays and Thursdays.
The affected passengers claimed they arrived early for the flight which was to take off by 2 pm to Milan but they were not airlifted.
One of the passengers claimed she got to the airport as early as 12 noon yet she could not be airlifted.
The passengers were said to have approached the NCAA Consumer Protection desk officials at the airport but they were told to send a mail to the airline in Milan for re-scheduling of their flights.
In the incident report sent out by the Directorate of Consumer Protection, the NCAA reported the passengers came late for check-in.
"About 14 Meridiana passengers came to CP desk to complain that the airline denied them checking-in. When contacted as to the reason why they were denied checking-in, Mr Kabiru (Duty Manager) informed that the passengers came late to the check-in counter as counter opened since 08:30hrs and closed at 13:00hrs even though the counter was supposed to be statutorily closed at 12:30hrs," the statement said.