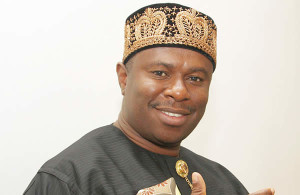 About 31 ports, jetties and terminals in Nigeria are currently not yet compliant with the International Ships and Facilities Security (ISPS) Code, thereby making them unsafe for marine operations.
Disclosing this at a world press conference yesterday, director-general of the Nigerian Maritime Administration and Safety Agency (NIMASA), Dr. Dakuku Peterside revealed that Nigeria currently has ISPS Code compliance level of almost 80 per cent.
The ISPS Code is an international document implemented through special measures to enhance maritime security in the International Convention for the Safety of Life at Sea (SOLAS). The Code is a two-part document describing minimum requirements for security of ships and ports.
Also, the implication of a non-compliant terminal means vessels that have visited Nigerian the non-compliant ports ND jetties would be barred from the United State, while America's allies would be encouraged to adopt a similar stance.
Also, terminal security breaches in non-compliant facilities can negatively impact the compliant ones.
According to Peterside, Nigeria currently has an ISPS Code compliance level of almost 80 per cent.
According to him, "We have intensified NIMASA's drive to ensure strict compliance with the provision of the ISPS Code.
"The result is that Nigeria now has a compliance rate of almost 80 per cent, as 114 port facilities out of the total of 145 ports and jetties in Nigeria are now fully ISPS compliant.
Let's not forget that NIMASA was only appointed the Designated Authority for the implementation of ISPS Code in Nigeria barely five years ago when compliance level was barely 13 per cent.
"Though eight per cent of the remaining 31 port facilities are currently pursuing compliance, our goal is to target a 100 per cent compliance level within the next 12 months. Our efforts have attracted commendation from the United States Coast Guard team that visited earlier this year."
On the nation's Cabotage Law, the NIMASA DG said, "We have made a lot of progress on the issue of Cabotage. Before the Cabotage regime came into being, less than 12 per cent of Nigerians were onboard vessels operating in Nigerian waters.
"Today, the figures have changed drastically as over 60 per cent of workers onboard vessels operating under the Cabotage regime are now Nigerians. It may also interest you to know that before 2003, less than three per cent of vessels operating on our waters were flagged Nigerian.
"However, today we have over 60 per cent vessels doing business in Nigerian waters flying the Nigerian flag.
Another good thing about the Cabotage regime is that we have been able to achieve 20 per cent in building Cabotage vessels from a completely foreign dominated area.
"The Nigerian Flag has also enjoyed significant growth within the past 12 months. While 262 vessels with a total Tonnage of slightly over 232,000 GRT were registered in 2015, the figures almost doubled in 2016 as 370 vessels with a total Tonnage of almost 420,000 GRT were registered within the past 12 months."
On the forthcoming conference of the Association of Heads of African Maritime Administration (AMAA), Dakuku Peterside stated that, "NIMASA, in conjunction with International Maritime Organisation (IMO) is organizing the third conference of AMAA.
This is in line with IMO policy in assisting and enhancing the capacity of maritime administrations in Africa.