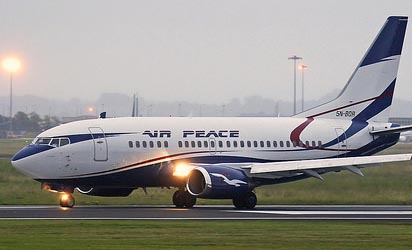 Air Peace will commence daily Lagos-Accra-Lagos flights beginning from February 16.
The airline said the Accra flight would mark the beginning of its foray into different regional and international destinations, including Abidjan, Douala, Dakar, Niamey, South Africa, Dubai, Mumbai, Guangzhou-China, Atlanta and London.
Corporate Communications Manager of Air Peace, Chris Iwarah said the maiden flight into Kotoka International Airport (KIA), Accra, Ghana takes off from the Murtala Muhammed International Airport, Lagos at 7 a.m. local time and makes a return to Lagos at 8 a.m. (GMT). Subsequently, the Abuja-Accra-Abuja sector will come on stream.
The launch of the airline's flight to Accra would fill the vacuum created by the suspension of flights of two domestic airlines into Accra, Ghana, Nigeria's neighbouring country.
Currently only Arik and Med-View Airline are the domestic carriers operating into Ghana.
The Air Peace spokesman said, "We are pleased to announce the commencement of daily flights from Lagos into Accra and from Accra into Lagos from Thursday, February 16, 2017.
"The launch of our Lagos-Accra-Lagos route is for us a dream come true in our plan to take our spectacular flight experience to the West Coast, the African continent and other international destinations.
"We are hopeful our Accra-Lagos-Accra service will make seamless connection between Nigeria and Ghana an exciting possibility as well as boost the economy of the two countries in unimaginable ways.
"Our numerous customers and the entire air travel community are guaranteed a great service anchored on safety, comfort and affordability. Our on-time departure record remains unequalled. Air travellers on the Lagos-Accra-Lagos route deserve the best of flight experience and that is what we are offering them."