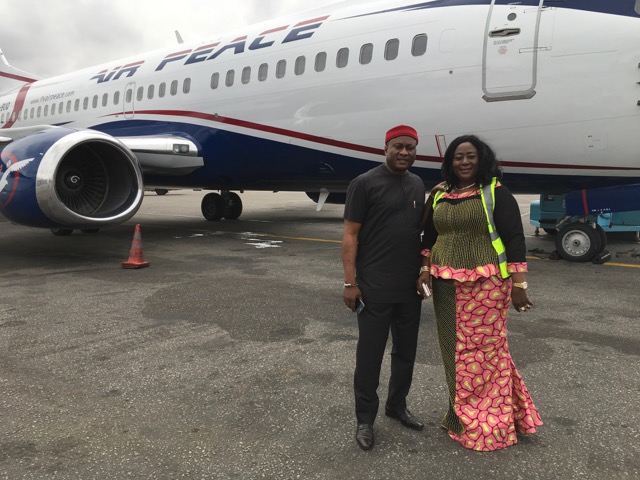 Moves to revatilise air travels in the country moved a notch as one of Nigeria's frontline airlines; Air Peace received another aircraft to increase its fleet size to 22.
The new aircraft, a Boeing 737-300, touched down at the Murtala Muhammed Airport, Lagos at about 12.30pm on Friday. It got a warm welcome from excited Air Peace staff.
The aircraft flew into Lagos from the Nnamdi Azikiwe International Airport, Abuja, where it landed at about 7.56pm last Thursday, with the Chairman/Chief Executive Officer of Air Peace, Mr. Allen Onyema on board.
The new aircraft is the 13th so far acquired by Air Peace in less than three years of its commercial flight operations.
An excited Air Peace team comprising the Vice Chairman, Mrs. Alice Onyema, Chief Operating Officer, Mrs. Oluwatoyin Olajide, Director of Finance Administration, Mrs. Ejiro Eghagha, Technical Consultant, Mr. Ben Adeyileka, Quality and Safety Manager, Patrick Achurefe, Cabin Services Manager/Head of Commercial, Florence Opia and Corporate Communications Manager, Mr. Chris Iwarah received the aircraft in Lagos. The team prayed for the continued success of the airline, which lifted a third of all passengers in the country in the first quarter of this year.
The airline, it would be recalled, took delivery of its 12th aircraft, also a B737, in February this year. Investigation shows that the carrier is finalising arrangements to bring in other aircraft, including B737, B777 and Embraer 145 jets, it recently acquired to increase its fleet size to 22.
The company's spokesman, Chris Iwarah said that while the B777 aircraft would be deployed to service the airline's international routes, including South Africa, London, Guangzhou-China, Dubai, Mumbai and Atlanta, the B737s would strengthen the carrier's expansion to more destinations in the West Coast of Africa, including Lome, Abidjan, Douala, Dakar and Niamey. Air Peace currently operates daily flights from its Lagos hub into and out of Accra-Ghana.
Speaking on the arrival of the new aircraft, Onyema assured that Air Peace was "committed to investing in equipment and services that make travelling more comfortable, convenient and seamless for the flying public."
He added: "The arrival of our newest aircraft underscores the depth of our resolve to make a huge difference in the Nigerian aviation industry. We are matching our huge expansion project with the right equipment and people to ensure the delivery of the best flight services to our valued guests.
"In a couple of weeks, more B737, B777 and Embraer 145 jets will be joining to increase our growing fleet to 22. We are ready and determined to cover more Nigerian cities with our Embraer jets. We will also deploy more B737 aircraft to strengthen our regional operations, which we started with our first flight into Accra-Ghana on February 16. We will soon launch more routes in the West Coast of Africa, including Lome, Abidjan, Douala, Dakar and Niamey. We are doing everything to give our esteemed guests the best long-haul flight experience with our B777 aircraft. With God on our side and with the support of our valued guests, we are sure of delivering a whole new experience on the London, Atlanta, and Dubai, Mumbai, Guangzhou-China and South Africa routes soon," the airline's CEO said.  
Copyright 2017 Ships & Ports Ltd. Permission to use quotations from this article is granted subject to appropriate credit given to www.shipsandports.com.ng as the source.