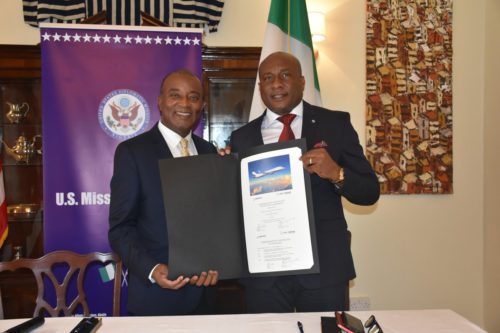 An indigenous airline, Air Peace, on Thursday, signed a multi-million dollar agreement with American aircraft manufacturer, The Boeing Company, for the purchase of 10 brand new B737 Max aircraft.
The agreement was signed at the United States Consulate in Lagos by the Chief Executive Officer of Air Peace, Allen Onyema and Boeing Sales Director for West and Central Africa, Larry Tolliver.
Speaking at the ceremony, Onyema explained that each of the Max B737 aircraft cost $113 million, but Boeing was gracious to reduce it to an undisclosed amount for Air Peace following series of negotiations.
He disclosed that the procurement of the aircraft, which is the latest by Boeing, was being financed by Fidelity Bank and they would be deployed for the airline's international operations.
According to Onyema, the addition of the new planes, which will be delivered soon by Boeing, will increase Air Peace fleet to 37 aircraft in less than four years of operation.
He said, "We have just signed an order for 10 B737 aircraft from Boeing. We are interested in creating employment for our people because one of the aircraft can create 500 jobs.
"We are trying to curb insecurity by creating job opportunities for our people. Air Peace currently has about 3,000 employees, and I believe that is part of our contribution to national development."
He thanked the President Muhammadu Buhari-led administration for the
support given to Nigerian airlines, noting that the anti-corruption campaign of the government had improved the confidence of the international community in Nigerian businesses.
Onyema, however, appealed to the government to find ways of establishing local refineries in order to reduce the high cost of aviation fuel which was affecting the operations of airlines in the country.
Also, the US Consul General, John Bray, noted that the agreement between both companies would further deepen the relationship between Nigeria and the US.
Bray said it was a win-win situation for both countries because the deal would create about 3,000 jobs in Nigeria while about 5,000 jobs in the manufacturing sector would be created in the US.
On his part, Tolliver said the B373 Max aircraft was the fastest aircraft manufactured by Boeing and consumes about 40 percent less fuel than other Boeing aircraft currently being used by Air Peace.
He said the aircraft also had passenger appeal because of the modern facilities onboard, stressing that Boeing would be supporting Air Peace with training and maintenance spares as part of the agreement.
The Federal Government has granted approval to Air Peace to begin flights to six international destinations which are London, Dubai, Sharjah, Guangzhou-China, Mumbai and Johannesburg in the next few months.