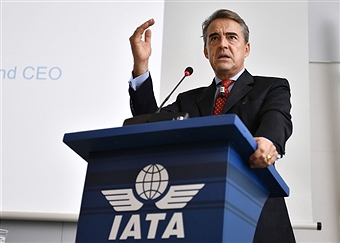 The rise in the oil price is putting the squeeze on airline costs and is likely to lead to a rise in airfares, industry executives said on Monday.
The oil price, which typically accounts for around 30 percent of an airline's costs, has risen 52 percent since June 2017 to around $68 a barrel.
International Air Transport Association (IATA) CEO, Alexandre de Juniac, said he believed there was a consensus among airlines that an oil price of around $65 to $70 remained "acceptable".
"It is not so much a competitive differentiator for an airline," he told reporters on the sidelines of a conference ahead of the Singapore Airshow. "It puts pressure on costs and it is more a fare inflation trigger."
However, airlines said the higher oil price was proving financially damaging because fare increases had so far failed to keep pace with the oil price rise.
"Last year, we estimated that our fuel costs rose 20 percent compared to 2016 which had a impact on our profit," said Li Zongling, the president of China's Okay Airways. He estimated that earnings fell by around 5 percent due to the higher oil price.
Vietnam Airlines JSC, which is also unhedged, said fuel surcharges were now being applied in a move that would push up fares but could gradually lead to lower demand from passengers.
"Especially for passengers traveling for tourist purposes when they see it (fares) past a certain level they say no," Vietnam Airlines CEO Duong Tri Tranh said.
The carrier had budgeted for an average jet fuel price of $75 a barrel this year but it has already gone past $80, he said. Jet fuel is more expensive than a standard barrel of oil due to refining costs.
Other airlines in the Asia Pacific region have put in place hedging programs to help insulate the financial impact of an oil price rise.
Australia's Qantas Airways Ltd, which hedges a substantial amount of its fuel requirements, expects its fuel bill will rise by A$200 million ($158.82 million) this year.
The airline, however, has forecast it will report record-level first-half earnings of up to A$950 million as it adds more fuel-efficient jets and cuts costs elsewhere in its business.
"Despite fuel prices being higher than last year, we are digesting fuel very well at the moment," Qantas CEO Alan Joyce said.
Irish low-cost carrier Ryanair said earlier that it expects higher oil prices to push up short-haul airfares in Europe, but not until 2019.  
Copyright Ships & Ports Ltd. Permission to use quotations from this article is granted subject to appropriate credit given to www.shipsandports.com.ng as the source.