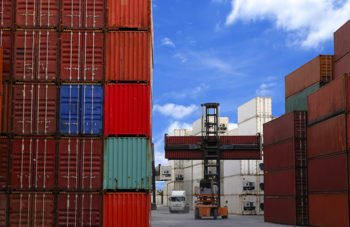 Market share aggression among carriers saw spot rates collapse in the final months of 2017, damaging annual contract prospects in the process, according to Drewry.
"The current spot rate surge will peter out post-Chinese New Year, the extent of the decline to be decided by carriers' ability to manage capacity in what will still be a growing trade."
Demand growth in the headhaul westbound Asia to North Europe trade tailed off in October and November, falling by 1.6% and rising only 0.1% year-on-year respectively. The slowdown in the first two months of the fourth quarter is a stark contract to the ~5% year-on-year gains witnessed in each of the three preceding quarters.
Drewry said it had anticipated minor deceleration in the final three months of 2017 when setting the annual growth rate forecast at 4.9% in September, but the extent of the drop-off "has been surprising."
After 11 months, Asia to North Europe container shipments were up by 4.2% Y/Y at approximately 9.1 million TEU, while the rolling 12-month average was tracking even lower at 3.4%.
Despite the unexpected decline during the fourth quarter, growth in 2017 is guaranteed to be the strongest since 2014, following on from a 1% uplift in 2016 and a 4% slump in 2015, according to Drewry.
Carriers did not pull sufficient capacity from the market in October or November to prevent westbound utilisation, and subsequently spot rates, from decreasing in those months.
Consequently, average spot rates from Shanghai to Rotterdam fell to a year-low of about USD 1,250/40ft container in mid-October. Spot rates along the same corridor mounted a brief recovery at the start of November following elevated base rate announcements, only to crash back by the end of the month.
Since the start of 2018 Shanghai to Rotterdam rates have recovered to their mid-2017 levels of about USD 1,800/40ft, boosted by the usual pre-Chinese New Year demand rush. However, this has come too late for the majority of annual BCO contracts, which were generally fixed at similar levels to the year prior, Drewry concluded. 
Copyright Ships & Ports Ltd. Permission to use quotations from this article is granted subject to appropriate credit given to www.shipsandports.com.ng as the source.