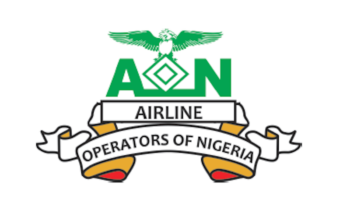 The Airline Operators of Nigeria (AON), on Wednesday, lauded President Muhammadu Buhari, for the recent signing of an Executive Order for the removal of Value Added Tax (VAT) from "All Forms of Shared Transportation."
The AON Chairman, Capt. Noggie Meggisson, gave the commendation in a statement issued in Lagos.
He expressed confidence that the domestic airlines were included in the VAT exemption.
Meggisson noted that the decision taken at the Federal Executive Council (FEC), meeting on June 6 presents a veritable opportunity for the aviation industry to immediately take advantage of the decision to expedite a White Paper to that effect.
He said, "We as Nigerians have been crying out for decades now for discussions on the immediate removal of VAT from domestic air transportation in line with global best practice, but we were barely heard.
"VAT is an added burden on our passengers who have limited disposal funds and have reached their elastic point in this difficult time in the nation's economy.
"This adversely affects the sector by reducing the number of those who can afford to travel by air due to high fares in this tough economic time."
The AON chairman stressed that a recent report from the Federal Airports Authority of Nigeria (FAAN), showed that passenger traffic dropped by 27 per cent in 2017 and by another seven per cent in the first quarter of 2018.
In all, a total of 34 per cent drop was recorded in passenger traffic within a span of one year.
According to him, domestic air transportation in Nigeria is the only mode of commercial transportation that pays VAT.
He said, "Road, rail, marine and even foreign airlines operating in Nigeria don't pay VAT in their home country or in Nigeria with reference to an information circular by the Federal Inland Revenue Service (FIRS) which grants them VAT exemption (Information No.: 9701; Circular Dated Jan. 1, 1997); Part L (b) No. 8.
"VAT on commercial air transportation is a huge departure from what obtains worldwide and an increased burden on Nigerian travellers.
"Ghana, Benin Republic, Togo and Cote d'Ivoire located next door to us have all abolished VAT for air transportation.
"The recent decision by the Federal Government to remove VAT from domestic Air transportation will go a long way to bring succour to groaning Nigerian travellers to be able to afford to travel by air."
Meggisson added that the growth in demand for domestic air travel would lead to the creation of jobs by the whole air transport service chain (airlines, airports, ground handlers and catering companies) as well as increase revenues for government.
He said, "This is a step that Ghana took over a year ago and the benefits are there for all to see today as Accra is fast becoming the aviation hub for West Africa.
"AON would, therefore, like to use this medium to once again thank the president and his administration for coming to the aid of domestic airlines by the recent Executive Order to remove VAT from all forms of shared transportation.
"It is our prayer that the president will go a step further to encourage the National Assembly to pass this Executive Order into law as quickly as possible.
"This will go a long way to encourage more Nigerians to fly and put the airlines on a positive footing to grow the economy and contribute to the Gross Domestic Product (GDP)."