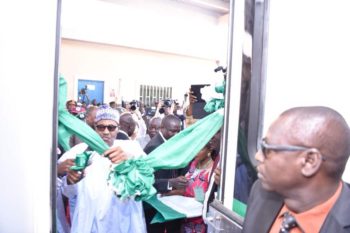 President Muhammadu Buhari has said his administration is committed to strengthening the nation's railway system in order to boost economic activities in the country.
Buhari made the vow while commissioning two locomotives and 10 standard gauge coaches on Thursday in Kaduna.
Buhari explained that the procurement of the locomotives and coaches was part of his administration's resolve to vigorously pursue rail development in the country in line with 25-year national strategic railway master plan.
According to him, "Other supporting projects are the purchase of more locomotives, coaches, wagons, workshops and equipment for new standard rail lines by way of encouraging private sector participation in the railway sector".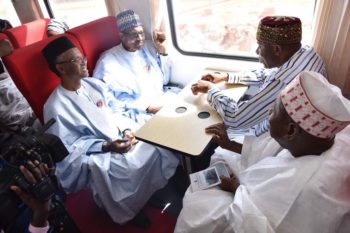 He said that it was on this basis that his administration was focused on creating conducive environment for private sector participation to strengthen commercial activities using railways systems and promote rapid economic activities.
"By improving the lives of the citizenry and promoting National integrity, our resolve is to promote railway systems to high class standard.
"Therefore, I am using this opportunity to appeal for the support of all relevant stakeholders especially the National Assembly and all development partners in realizing this objective.''
The Minister of Transportation, Rotimi Amaechi on his part noted that the inauguration of the new standard locomotives demonstrated government's commitments to revitalizing national infrastructure.
"Such commitment is not only key but tangible to all railway projects and its practical outcome is to improve the lives of Nigerians'' Amaechi said.