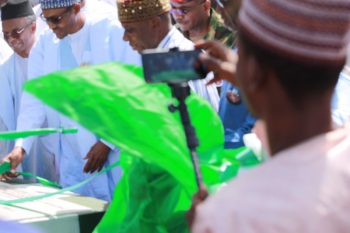 President Muhammadu Buhari Thursday inaugurated the Kaduna Inland Dry Port in Kakuri, Kaduna State.
He said the project would enhance economic activities, improve revenue generation and create direct employment.
"Today is a landmark day for our importers and exporters. The Kaduna Inland Dry Port is the first proper Inland Dry Port to be completed among the seven approved across the country. Six others — in Ibadan, Aba, Kano, Jos, Funtua and Maiduguri — are at various stages of completion.
"Our Customs and Ports officials must now make the Kaduna Inland Dry Port work. They must not frustrate business, commercial and industrial enterprises with unnecessary bureaucracy and delays. Our 'ease of doing business' attitude must be visible; we must make this Port work."  Buhari said
The President said the port will provide an easy process for the exportation of farm produce from Kaduna and neighbouring states as well as landlocked countries.
"Being the first of its kind in Nigeria, it is expected to receive cargo from Apapa Port in Lagos, through the railway or by road and also export goods through the same channel.
"And the idea is to establish Inland Container Depots in the hinterland to reduce the congestion in Lagos ports and provide relief for the busy Apapa road,'' Buhari added.
Earlier, Governor Nasiru El-Rufai, said the state government would provide additional road network to the dry port to ease movement of trucks.
A dry port is an inland inter modal terminal directly connected by road, rail and air to a sea port, and is usually operated as a centre for trans-shipment of sea cargo to inland destinations.