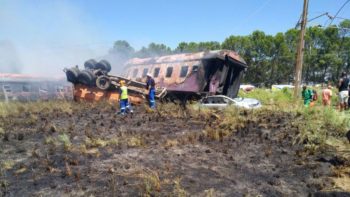 The death toll in a train crash in South Africa's Free State province on Thursday has risen to at least 14, a train service official said.
"It is not yet confirmed but the death toll for now is sitting at 14," said Daisy Daniel, Spokesperson for long haul passenger rail service Shosholoza Meyl.
Emergency services earlier said four people died and dozens were injured after the passenger train derailed and crashed into a truck before bursting into flames on its way to Johannesburg from Port Elizabeth.
Agency Report