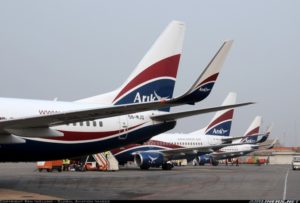 The Nigerian Civil Aviation Authority (NCAA) has disclosed that airlines operating in Nigeria realised about N330.59 billion from ticket sales between January and October last year.
Nigeria, Africa's most populous nation is serviced by eight domestic airlines and 31 foreign carriers.
The Director-General of the NCAA, Capt. Muhtar Usman, made the disclosure at a news conference in Ikeja on Monday.
Usman said that tickets worth N385.90 billion were sold by the airlines in 2015, noting that that the NCAA was yet to collate and authenticate the sales for the last two months of 2016.
"In terms of passenger movement, there was a marginal difference between 2015 and 2016.
"The total number of passengers recorded in 2015 was 11,402,899 while total number of both domestic and foreign flights was 233,845.
"The airlines recorded an average of 42,000 passengers daily and 700 flights daily. In 2016, the airlines also recorded an average of 42,000 passengers daily and 597 flights daily.
"Between January and September 2016, the total number of passengers was 11,344,936 while the airlines recorded 163,844 flights."
The director-general described 2016 was a successful year with a mixed bag of fortunes for the industry.
He said the industry was faced with challenges, including the current economic recession, paucity of foreign exchange, inability of foreign carriers to repatriate funds and scarcity of aviation fuel.
Usman said, however, that the NCAA was able to record some achievements, including the ongoing certification of the Abuja and Lagos airports.
He named other achievements as the certification of air navigation service providers as well as excelling in various international audits.
The NCAA chief expressed satisfaction with the zero accident recorded for the third consecutive year in the industry, adding that it was one of the safest in Nigeria's history.
He also unveiled a four-point agenda for the NCAA this year, aimed at improving safety and security of the Nigerian airspace through effective regulations.
According to him, the agenda include sustaining zero accident in aviation, reviewing and strengthening economic regulation, improved consumer protection and continuous prioritisation of training.