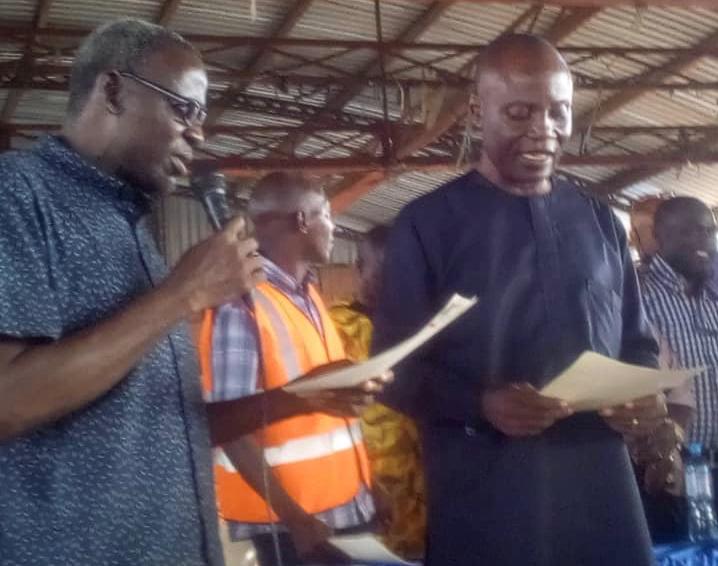 A Deputy-Editor-in-Chief at the News Agency of Nigeria (NAN), Adeleye Ajayi, has been declared winner of the Chairmanship Election of the Nigeria Union of Journalists (NUJ), Lagos State Council.
The Returning Officer at the election, Cosmos Oni, declared Ajayi as the winner with a total of 370 votes to defeat the incumbent Chairman, Qasim Akinreti, who polled 68 votes.
The election had been twice postponed and once aborted.
Oni also declared Innocent Anaba of Vanguard Newspaper as the Financial Secretary with 377 votes to defeat Iyabo Wale-Eri of the Nigeria Television Authority who polled 56 votes.
According to him, Tunde Olalere of the Lagos State Ministry of Information polled 381 votes to defeat Raymond Tedunjaiye of New Nigerian Newspaper (NNN) who polled 53 votes, as Secretary.
He added that Biola Beckley of African Independent Television (AIT), Iyabo Ogunjuyigbe of Eko FM/Radio Lagos and Isaac Jimoh of ThisDay Newspapers were returned unopposed as Vice Chairman, Treasurer and Auditor of the council, respectively.
Oni, who is also the NUJ Vice President, Zone B, administered the oath office on the new executive members and charged them to unite all aggrieved members to move the union forward.
"I have a message from the national body that you should not lose focus nor be distracted. Now that you have won, try and unite all members and work together for the progress of the council.
"Today is a fantastic day and we are happy to have conducted a peaceful election. I have to thank all journalists in Lagos State for allowing this election to go on peacefully. The election is free, fair and credible," he said .
Oni urged other contestants to support the new executive to take the union to higher grounds.
"There is no winner, there is no loser; no victor, no vanquished. They have all won the election. The winners should use all their wisdom to bring all aggrieved members together.
"Lagos Council is the largest in the country, it cannot be toyed with. It is a sport, those who did not win should come and be part of the progress and contribute their quota," he said.
National Trustee of the NUJ, Silva Okereke, commended the peaceful conduct of journalists and described the poll as successful.
Okereke said the winners should be magnanimous in victory, advising them against winner takes syndrome to succeed, and urged the losers not to be bitter.
In his acceptance speech, Ajayi described his victory as ordained by God and promised to fulfil all promises made during his campaign.
He said, "We thank everyone here who voted for us based on trust because they believe we can lift the council from its present doldrums. We salute those who shared our dreams, our aspirations, our vision and our goals.
"In the course of our electioneering, we made some promises which we assure you we shall fulfil within a short time we assume office. Let us put this election behind us. We are all winners and we intend to carry everyone along."