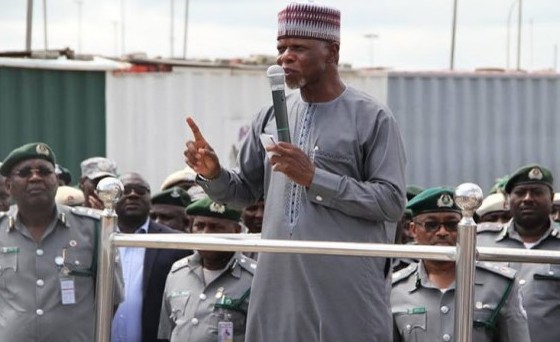 The Comptroller-General of Nigeria Customs Service (NCS), Hameed Ali, has advised officers who were not elevated in a recent promotion exercise to take responsibility for their poor performance in the promotion examination rather than blame the management for their woes. 
SHIPS & PORTS DAILY reported exclusive on Monday April 16, 2018 that a group of junior officers of the NCS had alleged ethnic and religious biases in a recent promotion exercise in which only 775 out of 3,216 that sat for the promotion examination were elevated to the next rank. 
The aggrieved junior officers had accused Ali and Deputy Comptroller-General, Human Resource Development, Ronke Olubiyi, of favouring officers from the northern part of the country.
But at a meeting held with the officers in Abuja on Tuesday, Ali said, "We should not believe somebody is out there hunting us because the person who marked this year, may not be the one to mark it next year and there is no way that person will be following you.
"We don't take responsibility when we do the wrong thing. We try to put it on somebody especially even when we steal money and we are caught, we say it is the devil's work.
"Yes, there could be mistake in marking your papers but we try to make sure these papers are marked not just by one person and there is no name on the paper. For example, if I am marking Bello's paper, I will not know the paper is for Bello.
"For instance, if you score 60, they add two marks for you, because the cut off point is 62 and you passed because of the length of time you have spent in service. So the service has carefully made provision to cater for your longevity but if you don't see your name, it means you did not pass, simple."  
The Customs boss however urged the officers not to give up hope but seek out other opportunities.
He said, "Please let us not lose hope. The fact that you did it today and did not make it tomorrow, the next time, you may make it. The good thing about Customs is that I don't think they have a limit as to how many exams you will do. In the military where I came from, you only have three attempts and if you did not make it the third time, you get a letter, notifying you that you are out. I don't think we have that in Customs, so we should take that leverage.
"Let us take confidence in what we are doing and I assure you that those of you who performed enough to qualify will get promoted. All of you will get promoted but let's also follow the due process of getting promotion."
On salary increase, Ali assured that the NCS management was doing everything possible to make sure that officers' salaries are increased before the end of the end year.
"If you recall my first meeting with you, that has been my concern and it is still my concern and the concern of everyone in the management. But the issue is we do not have the power to increase a kobo on your own salary, it has to go through due process. It has to go to Salaries and Wages Commission and finally go for approval. That is paramount and we are pursuing that.
"When I came, we did not have enough money to pay 13th month, but last year we paid 13th month and this year again, it is in the budget. This is within our purview as a management, we can do that. But there are others, that no matter how much we want to do it, we have to go through the process and we are doing that to see how we can get to that target. Our target is to ensure that your salary is increased.
"In fact, you are not the one to tell me, I have lamented this to anybody that wants to hear. I am shocked and surprised that customs pay is that low. So we are doing everything to make sure that your remuneration is readjusted. My prayer is that we get that through before the end of the year," Ali added.