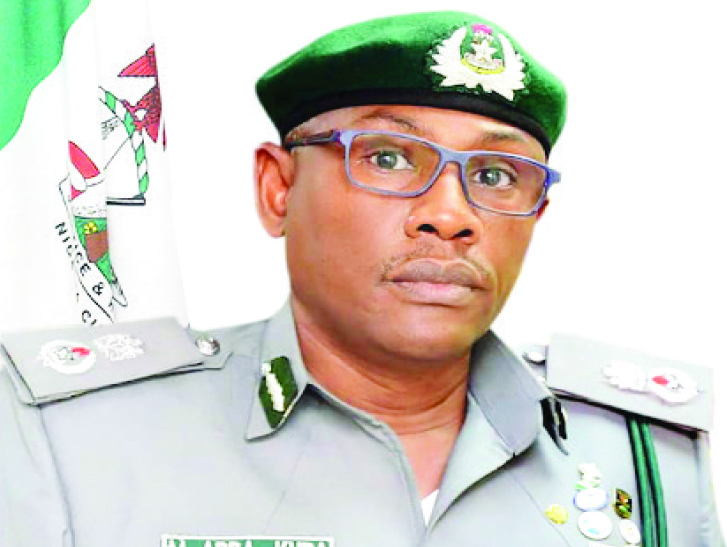 Comptroller Muhammed Abba-Kura is the Controller, Apapa Area Command of the Nigeria Customs Service. In this exclusive interview with Shulammite 'Foyeku, he speaks on the impacts of border closure on the operations of the command and the effect of bad roads on Customs officers working in Apapa, among other issues.
Excerpts:
What impact has the border closure had on your operation at the premiere port?
Those who cannot follow the border will definitely find their way into the country through the seaport, and once they meet up with all the conditions, we treat the consignment as we have been treating others. But, I don't think there is anything new. Maybe we'll get some additional cargo coming in but we have not witnessed any increment. The only thing is that people have been coming for enquiries especially those that their consignment have already gotten to Benin Republic before the order came into effect. Some few companies were here to inquire how they are going to go about bringing their consignment down to Nigeria through the seaport and we let them know that the rules are already laid down. We are not creating any (new) rules. They just have to follow all the import guidelines. They must process their PAAR (pre-arrival assessment report), do their normal declaration and in the course of examination. We examine the containers when they are around.
Looking at this period of the year when volume of imports is expected to increase, are you saying there has not been any significant increase?
It is not necessary; it depends on the situation. Things are not the way they used to be that you will see any rush at this period.
As the year gradually winds down, unscrupulous importers would want to take advantage of the yuletide to bring in prohibited items. What measures has the command put in place to sustain the fight against importation of contraband goods? 
We are always on guard right from the time I resumed here and we make use of intelligence and profiling. These efforts made us to get at them before they have their way. So we are ready for them, any time any day. If they bring anything that is contrary to what they are supposed to bring in, we will apply the necessary law and deal with them.
On the average, what is the level of compliance by importers/agents?
There is an improvement in the level of compliance since I resumed. It is not possible to have 100 percent compliance by importers in just a day, but some measures were put in place both on the part of officers and stakeholders. As I have always noted in my media chat that we would always focus on capacity building, we have successfully trained 403 officers as at the end of the first week of November from Assistant Superintendent of Customs II to Deputy Comptrollers. We trained them on our basic responsibility. Then the next phase will be for junior officers and then, the stakeholders. All these efforts are aimed at being on the same page with our stakeholders, improvement on compliance level and eventually revenue generation.
On the average, how much revenue does your command generate daily?
It all depends on the situation and circumstance. Some days, we get over one billion naira; sometimes we get between N2.1billion and N2. 4billion. We surpassed our first half year revenue target, so we expect to see an increase in the second half year.
Has there been any development as regards the deployment of new scanners at the Apapa port?
I will refer you to the headquarters on this question because they are in charge and I know the Comptroller-General of Customs and his management have been doing a lot to see that we have these scanners. When the scanners are deployed, it will hasten our work for a non-intrusive examination, and with that, we will be able to detect so many things and at the end of it, we will generate more revenue. For now, the only alternative for us is the 100 percent examination.
What in your own capacity have you done to sustain the synergy among industry stakeholders to ensure a clean port environment?
Apapa port is under a local government. So it is the sole responsibility of the local government to make provisions for, and clean its environment. It is just like you having a house, it is your responsibility to make your house clean, evacuate the refuse and bring it to the pick-up point. So it is the responsibility of the local government to evacuate it from there to the final destination. For us, we have been keeping our environment clean and we don't have the capacity and resources to say we will take responsibility of going beyond our premises. As a matter of fact, the local government should not have any excuse now that the Federal Government is giving them their allocation direct. So no local government chairman will just wake up and say the state governor is holding its money. You should equally know that Apapa is supposed to be one of the richest local governments in Lagos because of the business concerns that are here, so I think that question should be directed to them. That notwithstanding, we can partner with them in the area of enlightenment within our premises.
Operators have often raised concern on the issue of overtime cargo taking up available space at the terminal. What is Customs doing about evacuating these cargoes out of the terminal?
The truth is, all those things have procedures. Once the procedures are followed, there is no issue. The problem is not really the overtime, it is the infrastructure. If the roads are okay, the importers or their agents will not even complain if they are paying demurrage. We have cases where we would release consignment and it will remain in the port for the next three weeks before a truck will be able to enter the port to pick it.  So, it is infrastructure problem and that is why some people have decided to carry their consignment using barges.
Recently NIWA raised alarm that most of the barges are not in good shape to carry containers and often times, containers fall inside the lagoon. What would you say about this?
Why do they allow them to be on the waterways? Whose responsibility is it to ensure effective barges? Do they want Customs to go and stop barges? It is the responsibility of NIWA to certify them before they allow them to be on the waterways. It is just like Federal Road Safety Corp, coming to complain to the public that most of the trailers carrying containers are not roadworthy. So whose responsibility is it to inspect the vehicles and certify them to be on the road? People should just face their responsibility and do their work within the law. If all hands are on deck and everybody is doing what they are supposed to do, we will not have most of these problems.
What major challenges do you contend with since you assumed duty at Apapa command?
Personally, I am discharging my duty. I don't have any issues, but the poor infrastructure is impacting on the wellbeing of my officers. It takes hours before they will come to work and to get home after work is another headache. So definitely it is affecting us. Some officers are really falling sick. But it is not only my officers; even the stakeholders face the same challenge.
Copyright Ships & Ports Ltd. Permission to use quotations from this article is granted subject to appropriate credit given to www.shipsandports.com.ng as the source.