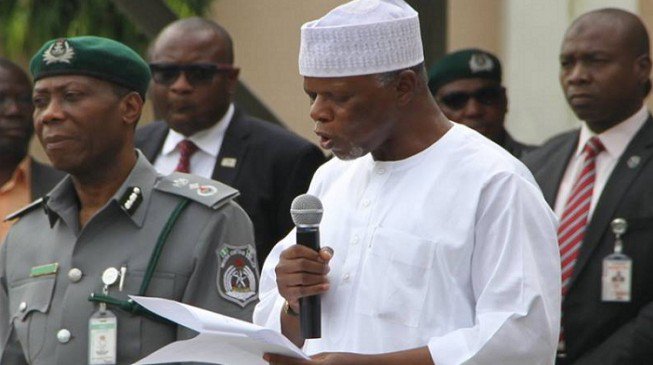 The Comptroller-General, Nigerian Customs Service (NCS), Hameed Ali said on Thursday that Nigeria's land borders will remain shut for a long time, despite the pressure from neighbouring countries. 
The land borders with neighbouring Benin and Niger were shut on the orders of President Muhammadu Buhari on August 20, ostensibly to fight smuggling of goods into Nigeria. 
However, some commentators have alleged that the border closure is targeted at the southern part of the country, while trading activities and smuggling are booming in the northern borders. 
But speaking during the graduation ceremony of the Senior Course 3 of the Nigerian Customs and Staff College, Gwagwalada, Abuja on Thursday, Ali said Nigeria has to first think of its own survival before considering the impact of the closure on neighbours.
Ali said if Nigeria does not safeguard its borders, it will become a dumping ground when the African Continental Free Trade Area (AfCFTA) agreement comes into effect. 
"It is our hope that the border drill will continue for a while so that we cannot only sanitize our process but we can also lay the foundation for our growth and development because that is what we need to get our industrialists think and grow.
"If we don't do that, we are going to be in deep problem. By the time we begin to operate the African Continental Free Trade, Nigeria will be a dumping ground for every product from Africa. So, we need to be able to develop our capacity to be able to meet our requirements in terms of goods and services so that we can keep at bay the influx of other goods.
"If we don't, these goods will come and our industries will continue to die. So we look forward to a situation whereby our industrialists will capitalize on this drill that we are doing so that they can grow and provide those things that we need. The Chinese closed their doors for over 20 years and now they are on top.
"We need to close our own. There is nothing that is being produced today that we cannot consume in Nigeria. Our industrialists do not have to look outward to find the market, we have it right here. And we need to grow that market.
"I hope that Nigerians will agree with us that while we are doing this drill, I know that our neighbours are in a haste to get us to open the borders. I think we need to look at our strategic interest first before looking at other people," he said. 
Also speaking at the event, the Governor of Kaduna State, Nasir el-Rufai, expressed support for the closure of the borders.
He said, "Don't forget that those that are preaching the reopening of the borders today, closed their boarders for 20 years. Nigeria must grow on its internal capacity. We will not allow our neighbours to use the porosity of our borders to sabotage our economy."
Copyright Ships & Ports Ltd. Permission to use quotations from this article is granted subject to appropriate credit given to www.shipsandports.com.ng as the source.