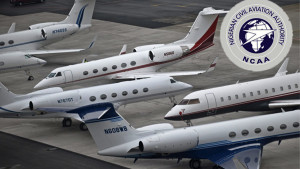 The Nigerian Civil Aviation Authority (NCAA) has urged domestic airlines yet to fully automate their remittance of the five per cent Ticket and Cargo Sales Charges (TSC/CSC) to do so by December.
The General Manager, Public Relations, NCAA, Sam Adurogboye, made the appeal in an interview in Lagos on Thursday.
Adurogboye said that the authority only suspended its January 31 ultimatum issued to the airlines on the implementation of the remittance.
The five per cent TSC/CSC is the revenue accruable to the aviation agencies through NCAA as contained in Part V Section 12(1) of the Civil Aviation Act 2006.
The section mandates the airlines to collect the charges paid by the passengers on behalf of NCAA and remit same appropriately and in real time.
He explained that the airlines, under the aegis of the Airline Operators of Nigeria (AON) had earlier opposed the introduction of the Aviation Revenue Automation Project (ARAP) for revenue collection.
Adurogboye said: "What happened was that a committee was set up by the Director-General of NCAA, Capt. Muhtar Usman and it held series of meetings with the operators over its implementation.
"Following these meetings, most of the airlines have automated their payment systems and we have about three remaining.
"We are, however, expecting all of them to key into the process by December," he said.
He also noted that some of the airlines had been resolving the issue of their indebtedness to the aviation agencies.
"For now, most of them are remitting the five per cent TSC/CSC as at when due.
"Some have also been working on how to clear the old debts and we are hoping that everything will soon be resolved."