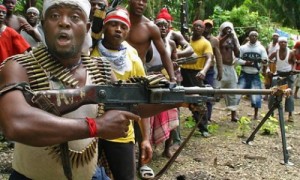 Efforts to bringing lasting peace in the Niger Delta may be derailed if the clamour by militants in the region for investigation of alleged diversion of funds by government officials is not properly dealt with.
There have calls by some militants in the region for the federal government to investigate an alleged misappropriation of over N11 trillion, 13 per cent derivation funds accruable to the six states of the Niger Delta since 1999.
The militants had asked the Government to stop channeling the payment through governors of the region to avoid further misappropriation. In a letter to President Muhammadu Buhari, the agitators maintained that the routing of the funds, meant for the development of oil-producing states, through politicians had only ended up in enriching a few pockets while the majority of the people remained impoverished.
The agitation against protests of the under-development of the oil-rich region amid the allocations it gets. There has been the argument that even without additional support from the federal government over the years, the lot of the Niger Delta could have been altered for the better if the state governments were focused and deployed judiciously the money they got in close to the two decades since the return of democracy.
The militants also requested the federal government to put in place structures incorporating only oil-producing communities as a way of rectifying the inconsistency of the past.
One of the groups that are vocal against governors receiving money meant for the development of the region, the Reformed Egbesu Fraternity (REF) in a recent petition to the federal government, signed by its 'General Officer Commanding', Ebi Alagbakouriwei, argued that sending the funds through the governors contravened Section 162 (2) of the 1999 Constitution (as amended) and item 39 on the Exclusive List.
It maintained that till date, over N277 billion of the N11 trillion remained unaccounted for, alleging that the anti-graft agency, EFCC, had refused to take necessary action against the culprits.
Pro militant groups in the region maintain that non release of amnesty funds for former militants who were part of the programme from inception could frustrate the relative peace in the oil rich region which may also affect oil production output as was experienced last year.
Close sources said that the clouds are gathering and the militants who have been owed five months of arrears of stipends as well as education fees for students in Nigeria and overseas, may be forced to revolt.
Last month, former militant leaders in the region urged the government to pay out delayed amnesty stipends or face protests.
However, the federal government and the legislators are putting spanner in the works to resolve the issue.
The government is currently talking with militants to end the attacks that cut Nigeria's output by 700,000 barrels a day (bpd) for several months last year, while the House of Representatives have launched investigations into alleged funding irregularities.