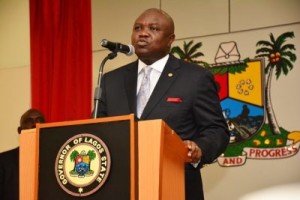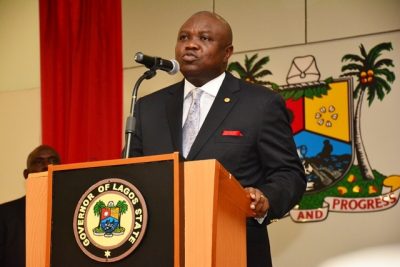 The Governor of Lagos State, Akinwunmi Ambode, has inaugurated a 45-member Community Relations Committee in Badagry, to forestall any incidence of environmental degradation, communal disputes and civil disturbances often associated with oil producing areas.
Ambode, while speaking at the inauguration of the Committee at the VIP Chalet in Badagry on Thursday, said that as much as oil is a major source of revenue in the country, its exploration has created serious environmental challenges affecting health, social and economic activities, sustainable development and ecological balance due to land degradation, air pollution, water pollution, deforestation and ecosystem degradation in the oil producing communities.
"These activities amongst others have led to agitations from Communities and Youth Groups leading to disruption of exploration activities, pipeline vandalisation and in extreme cases kidnapping and violence. This has made it difficult to conduct the business of oil production smoothly and ensure that the relationships between the oil companies and their host communities remain cordial at all times. This has also affected negotiations for compensations for land acquisition, damages and spills," he said.
The Governor said Lagos, being the home of Nigeria's most critical commercial activities and now an oil producing State with the discovery of oil in the Badagry Area of Lagos State; in the Aje Oil Field, OML 113 being operated by Yinka Folawiyo Petroleum Company, cannot afford to have any community unrests or disruption of peace.
"It is imperative that our oil producing companies and their host communities enjoy a very warm and mutually beneficial relationship.
"Sequel to the aforesaid and the need to create a conducive exploration environment for the Oil Companies as well as having host Communities devoid of rancor to prevent the re-occurrence of the Niger Delta issues in Lagos State, we have constituted a Committee for the Lagos State Oil Producing Areas Relations, cutting across the Oil Producing Communities in Badagry," the governor said.
While setting up the committee consisting of representatives of the State and Local Government, the host communities, women and youth, traditional rulers and other stakeholders, Governor Ambode said the Committee would among other things, interface between the host Communities and the Oil Companies in Badagry, as well as coordinate a seamless implementation of Corporate Social Responsibility (CSR) interventions planned for the Badagry Oil Producing Areas by Oil Producing Companies in Badagry.
He said the Committee would also be saddled with the responsibility of coordinating community and development issues between host Communities, Government and Oil Producing Companies Operating in Badagry.
Besides, Ambode said the Committee would also be expected to ensure peace and harmony between host Communities and Oil Producing Companies in Badagry.
"Our government is committed to creating a conducive environment for all to thrive especially in our budding oil industry. We will always work to protect our people and ensure their improved welfare while at the same time providing an investor-friendly environment.
"On our part, we will take proactive measures to prevent oil spillage and where it happens, quickly move to clean it up according to globally accepted standards. We will also ensure the safety and security of our communities and operators at all times.
Alluding to the fact that the Badagry area was fast becoming a major hub for oil activities in Nigeria, the Governor expressed optimism that the upcoming Badagry Deep Sea Port will provide logistic support for the oil and gas industry and further support the expansion of the economy of this axis thereby making it more viable and livable.
Thanking members of the Committee for accepting to serve and contribute to the development of our State, he charged them to bring their wealth of knowledge and experience to ensure cooperation and collaboration between the communities and the oil companies operating in Badagry.
"This is a tough assignment because it is not easy to mediate and arbitrate. I look forward to receiving the reports of your activities and the progress being made by our communities and oil companies," he said.