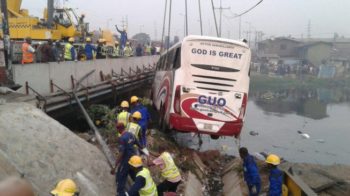 At least three people were killed, while 23 sustained injuries after a luxury bus with registration number Anambra GDD 386 YE plunged into a lagoon at Owode Elede in the Mile 12 area of Lagos state.
Adebayo Kehinde, spokesperson for the Lagos State Emergency Management Authority (LASEMA), confirmed this, saying the ill-fated bus was returning to Lagos from Abia state when the incident occurred.
Kehinde said the agency was informed about the accident around 3:23am, and it swung into action immediately.
"The agency received a distress call at about 3.23 am today 17/2/2017 via the emergency toll free number 767/112 concerning a luxury bus with registration number Anambra GDD 386 YE belonging to GUO Transport Service Co. LTD which was gathered to be enroute Maza Maza from Aba, Abia state," Kehinde said in a statement.
"According to preliminary investigations conducted at the incident scene.The luxury bus was said to have skidded off its track while on top speed and plunged into the canal at Owode Elede, before Mile 12. Ikorodu road."
Kehinde said there were 59 passengers in the bus, and that those who died fell into the water, where their corpses was recovered.
"The bus with 59 passengers on board had 23 people injured and were treated on the spot by a joint team of LASEMA Paramedics and LASAMBUS, nine out of the treated victims were taken to the Lagos State Trauma Centre at the Toll Gate for further treatment, while two adult male and one female, which include the motor boy were recovered dead from the Canal," he said.
"The three dead bodies, bus and their belongings were handed over to the men of the Nigeria Police, Owode Division.
"The agency recovered the vehicle with the aid of its heavy duty equipment crane and towed it off the road to ensure free flow of traffic."
Copyright Ships & Ports Ltd. Permission to use quotations from this article is granted subject to appropriate credit given to www.shipsandports.com.ng as the source.