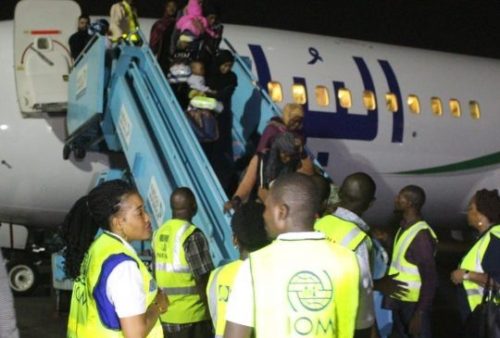 Another batch of 193 Nigerian migrants repatriated from Libya arrived Lagos late Thursday, the National Emergency Management Agency (NEMA) has said.
Acting Zonal Coordinator, NEMA, South West Zone, Segun Afolayan, who made this known to journalists on Friday in Lagos said the migrants arrived at the Cargo Wing of the Murtala Muhammed International Airport, Lagos at 8.32pm aboard a chartered Nouvel Air aircraft with registration number UZ 189.
Afolayan said the migrants were assisted back home by the International Organisation for Migration (IOM) under its Assisted Voluntary Return Programme.
He said the repatriated migrants comprised 81 female adults, one female child and 14 female infants in addition to 87 male adults, five male children and five male infants.
Afolayan urged Nigerians to stop stigmatising returnee migrants who went outside the country in search of greener pastures.
He said, "It is a right for everyone to live free and comfortable lives but the process or the means of seeking the fulfillment of the rights are the ones in contention.
"Many of these innocent victims are not aware of the dangers on the means and the routes of the journey. They fall easily to the deceitful and deceptive promises of a better life outside the country.
"Nigerians need to accept the challenges of the menace of irregular migration as evil and inhuman and all hands must be on deck to save our innocent youths from embarking on such perilous journeys henceforth."
The Acting Zonal Coordinator advised the returnees to remain positive and undaunted by their unfortunate experiences in the volatile North African country, adding that they should be focused on how to improve their lives in Nigeria.
According to him, the Federal Government, IOM and the European Union have been providing opportunities for the returnees through various skills acquisition programmes.
Afolayan, therefore, appealed to the private sector to assist the government in the reintegration of the returnees to make them more productive.