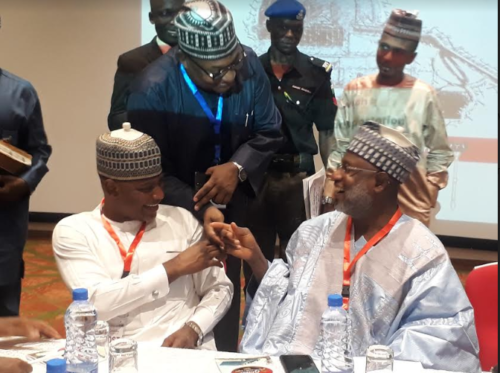 Stakeholders in the maritime sector have expressed displeasure over the various ills plaguing the sector, which they said have affected the maximization of its huge potentials over the years.
The stakeholders, who spoke at an interactive session organised by the Senate Committee on Marine Transport in Lagos on Thursday, decried the chaotic traffic situation within Apapa and its environs, calling for an urgent solution to address the problem.
Chairman, Seaport Terminal Operators of Association of Nigeria (STOAN), Princess Vicky Hasstrup blamed inconsistent policies of the government for the woes of the sector.
She said due to the congestion on the port access road occasioned by bad roads, it now takes an average of 35 days for vessels to discharge.
"It makes me very sad and shows how unserious we are as a nation that the access to the port is so congested and no attention is being paid to it despite the huge potential of the industry. The problem is not because we have more cargo coming into Nigeria. As a matter of fact, the volume of cargo coming to Nigeria, compared to what volume we handled five years ago, is much less but we did not have this problem because the road was good.
"As we speak, Wharf Road has been completed but the bridge has been shut down and the contractor is not doing anything about it. Are we serious as a nation? Do they know what people coming to Apapa are going through? We are in danger in Apapa.
"Our terminal was handling about 17 ships in a month before this problem of traffic gridlock but now, we do an average of three ships per month. Ships that will take only five days to discharge is taking 30 days, sometimes 35 days presently because the terminal is full of cargo," she added. 
A Senior Advocate of Nigeria and former President of the Nigerian Bar Association (NBA), Dr. Olisa Agbokogba, called for the creation of a Maritime Ministry to address the problem facing the industry.
According to him, "The maritime sector is bigger than the aviation sector but does not have a ministry. If we don't have a policy plank to carry out most of these things, nothing will happen."
Pioneer Chairman, Nigeria Shipowners Association (NISA), Chief Isaac Jolapamo, said the Federal Government has not showed any sign of seriousness to the development of the shipping industry as evident in its policy somersault and inconsistency.
According to him, if acquisition and management of ships does not work in the country, nothing can work.
"I have been fighting in the past four and half decades because I am very passionate about shipping development in this country. Unfortunately, we have not gone any far. We seem not to be serious about developing our shipping industry. I have already lost hope in shipping development in the country," he said.
Chairman, Shipowners Forum, Mrs. Margret Onyema-Orakwusi lamented the spate of insecurity on the nation's waterways which has led to high freight rate. She said shippers are also losing millions of naira daily due to the dilapidated port access roads.
"The cost of shipping to this country is astronomical. The cost of moving a container from Apapa to other parts of Lagos has also gone high. What we use to pay N200,000 for is now between N900,000 and N1 million. Some of us have lost perishable goods just to move them from the Wharf to various cold rooms because they have to stay in traffic for over six hours," she said.
Orakwusi said there is an urgent need for the Federal Government to put in place measures to encourage maritime businesses to survive noting that the economy of the country rests of the private sector.
"If our businesses are killed, who then offers employment to our youths? Government must protect our businesses and the natural resources in the country so that the poachers will not have free hand," she said.