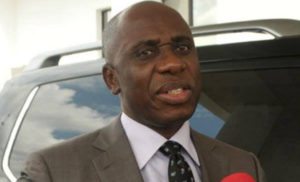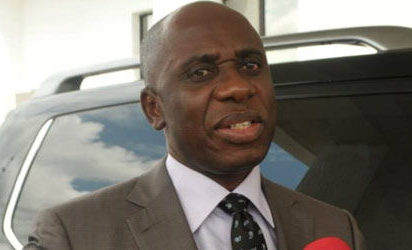 The Minister of Transportation, Rotimi Amaechi, yesterday commissioned the Jos inland container depot in Plateau State. Speaking at the commissioning, the Minister said, "We are here to ensure the commencement of the construction of the inland container depot here in Jos. I remembered when we were newly sworn in, you (the governor) had approached me with your intention to kick start it again and I said that the federal government will do everything to ensure that you achieve your objective.
"The reason for doing this is to ease the challenges for people who import or export from this part of the country who engage or encounter problems as they approach Lagos, Warri, Port Harcourt or Sapele depots.
"This will make it a lot easier for those who business from Jos and the environs to do their business of shipping from this point.
"I hope the concessioner will conclude the construction and what ever insulations that he needs to do, and I hope the Shippers council will give him all the necessary support that he needs."
Speaking about the operator of the depot, Amaechi said, "When they met with me, I also did make some concessions to them. I encouraged them to conclude whatever it is they need to do and I am doing that because this project will employ some few people from Plateau here."
Also speaking, the Plateau State governor Simon Lalong said, "I want to use this opportunity to thank the Federal Government for the inland container port. It is something we have anxiously been waiting for until you came on board.
We understand the unfortunate incident that happened the last time when of all a sudden, a governor will take a bulldozer and go and clear something that is going to be useful for the people of Plateau sSate.
"So when we came, we revisited the issue. So we said the concessioner should quickly start moving again and we know that with your coming, it is going to be actualised."