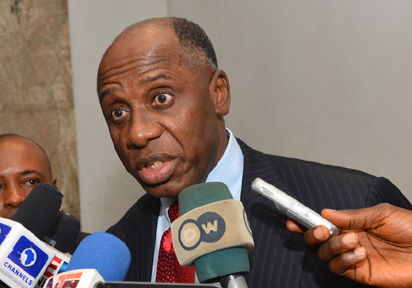 By Patience Danjuma 
The Minister of Transportation, Rotimi Amaechi, has said that the Federal Government awarded a controversial maritime security contract worth $195 million (about N60 billion) to an unknown Israeli company, HLSI Security Systems and Technologies, because of its desire to tame criminality on the nation's waterways. 
The contract has been condemned by many maritime and security experts. 
But speaking during an interactive session with journalists in Abuja on Tuesday, Amaechi said the Israeli company will train Nigerian security personnel on how to man the waterways.
"Currently, there are criminal activities in our waterways which has made people in some parts of the country charge what they call war insurance. War insurance means that you go to an area where there is war, but you know that there is no war there.
"But in such areas criminal activities are taking place in the waterways. So with the approval, after we've put the processes in place, we will ensure that there is security on our waters," he said.  
Amaechi also said that work on the Ibadan-Kano double gauge rail line will cost the nation about $8 billion. 
The rail line, which is a part of the Lagos to Kano double rail project, will pass through several states including Osun, Ekiti, Ondo, Kwara and Niger state before it gets to Kaduna and then Kano.
He said the Federal Government is committed to the project and it is currently negotiating about $6bn facility from the Chinese EXIM Bank to do the project.
He said, "We are currently in negotiations with the China Exim Bank to get about $6bn to do (rail lines) from Ibadan to Kano. It is a difficult decision. Why is it difficult? The money required is about $8bn to do a double track but the Chinese are insisting that they can't fund the double track."
He said following the huge sum required, some people are advising the government to fix the project in tranches but the FG has declined because it might not be economically viable if the rail line doesn't connect the seaports to the north.
"They (Chinese) are asking us to do a single track and they want it at Minna so that instead of going from Minna to Kaduna, we should go from Minna to Abuja and then join it from Abuja to Kaduna. But there are those who argue that we should not accept that, rather we should tell them (Chinese) to fund it in segments. This, however, does not make economic sense," he said.
According to him, the rail must link Lagos ports down to Kano to maximize the economic benefits on that rail corridor as the value is in the freight not passengers.
Copyright Ships & Ports Ltd. Permission to use quotations from this article is granted subject to appropriate credit given to www.shipsandports.com.ng as the source.