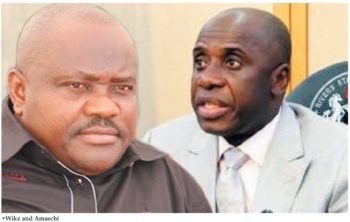 By Patience Danjuma 
In the wake of the killing of 21 people in Rivers on their way back from church on New Year's Eve, transport minister Amaech Rotimi has told Rivers governor Nyesom Wike  to quit, if he cannot secure the state.
After meeting with President Muhammadu Buhari, Amaechi said such an incident never happened when he was governor of the state.
He said Wike should be more serious and stop encouraging militant groups in the name of politics and elections.
"You heard about 21 only in Omoku, what about in Akutoru where two person were killed, what about other local government areas? I think there should be much more than age to qualify to be a governor because it takes much more than age. I was governor of Rivers State, I did not play PDP/APC politics, life is life, it has no symbol. Nobody has APC life or PDP life.
"The first responsibility of a governor, which is what the oath of office requires, is that you swear to protect lives and property. When you don't protect lives and property, what do you do? It is impeachment. Unfortunately, there is no House of Assembly in Rivers State.
"Too much noise coming from Rivers State, the governor just wakes up and starts shouting, abusing people; that's all he does. Mr. Project painting roads, the first thing you do is human capacity development and keeping human beings, and we are losing lives every day.
"Two important men were kidnapped before I left Port Harcourt, the first person is Chief Adoke, till today, nearly one month after, nobody can tell you where he is. The next person is Chief Omogu. Luckily, the villagers ran after the people and rescued the old man from the bush.
"It never happened when I was governor. We (the security and myself) ensured that we would not sleep at night. We stayed awake for the citizens to sleep. I think the governor needs to do much more than that or quit the office," Amaechi said.
The former governor said his successor had no reason not to secure Rivers because he had everything at his disposal to do it.
"He is not like me, when during my second term, President Goodluck Jonathan took away the police, SSS, the army brigade commander couldn't visit me. But in his case, everyone is disposed to him. He can see the Commissioner of Police, director of SSS, unlike my period, but we fought insecurity.
"But because he needs these people for election purposes, that is why they are still there, that is why they are killing, we need much more than that. Unfortunately, I swore not to be talking about Rivers anymore, but you don't keep quiet n the face of 21 lost lives, you can't just keep quiet. I have said that nobody should criticize his successor, let him do his beat, but a successor that watches the lives of people go like that and does not care? God will bless him," Amaechi said.   
On railway services, Amaechi said the Federal Government may increase the transport fares of the rail services on the Abuja-Kaduna route following the inauguration of 10 new luxurious coaches.
According to him, already, commuters have agreed that the cost of transportation to Kaduna via the rail service is a bit too cheap.
The Minister, who said he discussed the inauguration of the 10 new coaches and two locomotives with the President, revealed that the new coaches would be inaugurated on Thursday.
"The president is pleased with the arrangement because basically we will then be able to discharge the passengers pressure that we have had; that is why you have ticket racketeering.
"When demand outstrips supply then you see all sorts of attempts to cheat the passengers.
"There are two things I know the president likes. I have mentioned one, the second one, is after commissioning even the passengers agree that the cost of transportation to Kaduna via the railway is a bit too cheap.
"So there will be a need to increase the price and then there will be more comfort.
"More comfort in the sense that when you have excess seats multiplied by the number of passengers that will come, then anybody that wants to racketeer will have to eat the tickets himself,'' he added.
He stated that the new coaches, when inaugurated, would bring the total number of coaches to 14 on the Kaduna-Abuja route.
According to the minister, one of the locomotives will be dedicated to direct trip from Kaduna to Abuja non-stop.
He said this would enable those "living in Kaduna and working in Abuja to actually come to work on time".
He said, "If you leave at 6.00a.m by 7:15a.m, 7:20a.m you should be in Abuja.''   
Copyright Ships & Ports Ltd. Permission to use quotations from this article is granted subject to appropriate credit given to www.shipsandports.com.ng as the source.