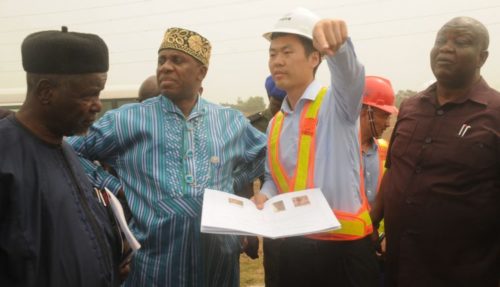 The Minister of Transportation, Rotimi Amaechi on Friday dropped a hint indicating that President Muhammadu Buhari may not reappoint him to the position at the end of his first term on May 29. 
Amaechi also apologised to Nigerians over the suspension of the Iju-Abeokuta free train ride during the 2019 general elections.
Speaking with journalists on Friday during an inspection of the ongoing Lagos–Ibadan standard gauge project being constructed by the China Civil Engineering and Construction Company (CCECC), Amaechi said he hoped that the country's next Transportation Minister would have the same zeal and passion like him to deliver the ongoing projects in the railway sub-sector.
Amaechi, who was the Director General of the Buhari Campaign Council, said his reappointment is the prerogative of the President who has the statutory power to appoint ministers.
The inspection took the team comprising officials of the ministry and the Nigerian Railway Corporation (NRC) from the railway compound at Ebute-Metta Lagos down to the end of the project in Ibadan.
The team initially went by train to the Abeokuta end of the project and continued the inspection by road up to the end of the project.
Amaechi, who drove himself through the inspection, had many stops and took several kilometres of walk to assess the level of work carried out on the project even as it was revealed that some of the workers left the site because of the just-concluded general elections.
He said, "If you watched me as governor I was always restless at delivering on my responsibilities. I pray whoever would be the Minister for Transport should have the same passion and focus on that responsibility.
"I know as a Minister, I know it is a stress, I'm stressed up and all that. But as a Minister you have a responsibility that the President has passed to you and you must deliver.
"The second thing is that the economy of Nigeria can be driven most importantly if you can link the seaport to the hinterland because when these cargoes come, they must go. The more you are able to move goods and cargoes to the hinterlands, the more you create jobs, and the more you create jobs the more economic growth that you have."  
On the suspension of the Iju-Abeokuta free train ride, he said, "It was suspended by the Chinese and the excuse they gave me was that they cannot allow it run because of safety, since they have not completed the second line but they are almost through with it.
"It is almost completed from Iju to Abeokuta. I want to apologise to Nigerians that they suspended it when they left the country, which I didn't envisage, they will go back soon."   
Amaechi urged CCECC to deploy more equipment on site to accelerate the pace of work especially the civil works and laying of tracks.