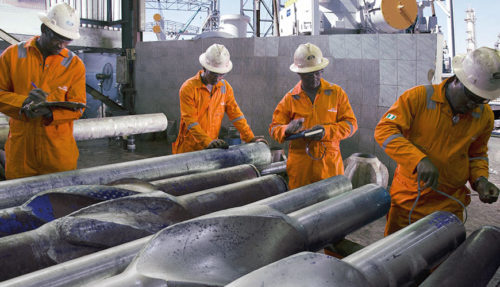 The Association of Marine Engineers and Surveyors (AMES) has elected new executives to pilot the affairs of the association for the next two years.
The election, which was during the association's Annual General Meeting in Lagos recently, saw Engr. Adeyinka Okunade emerge as President, Engr. John Okuntokun as first Vice President and Engr. Emmanuel Ilori as second Vice President.
Others are Josiah Wasa as Secretary, Engr. Akeem Oderinde as Public Relations Officer and Engr. Isreal Obadan as Treasurer. 
Speaking in a chat with SHIPS & PORTS DAILY, outgoing President of the association, Engr. Charles Uwadia, who served two terms, charged the new executives to sustain the tempo of work initiated by the outgoing administration.
According to him, "The association before I came in was kind of moribund. We were in the background but when I came in, we were able to galvanise and bring all the members together and create awareness that we have core professionals in the industry.
"What most people don't understand is that on board vessel, there are two key departments, the navigators and the engineers. The navigators rise up to become the master of the vessel and the engineers rise to become chief engineers. So the master mariners are officers who have taken command as masters of vessels and our association is for people who have taken positions as chief engineers on board vessels. So if you are not a chief engineer, class one certificate, you cannot be a member. We achieved a lot by creating this awareness and bringing AMES to limelight and making people understand what the association is all about."
Uwadia recalled some of the achievements recorded during his tenure especially during the association's annual summit in 2017 which he said, was well attended by heads of agencies including the Minister of Transportation, Rotimi Amaechi.
He expressed confidence that the incoming executives led by his former deputy would work to contribute to the development of the maritime sector.
"We were able to achieve a lot during the last tenure including the two summits we had. We were able to bring in the minister and it was after the first summit that the committee for the re-jigging of the Nigerian Maritime Administration and Safety Agency (NIMASA) and the ship registry was set up. The committees did a lot of work and I think with that, we have relative achievement.
"The incoming excos are also passionate and I know they will move the association to the next level. They are going to take off from where the last excos stopped and dialogue with relevant bodies and see how they can contribute to the development of the sector," he said.