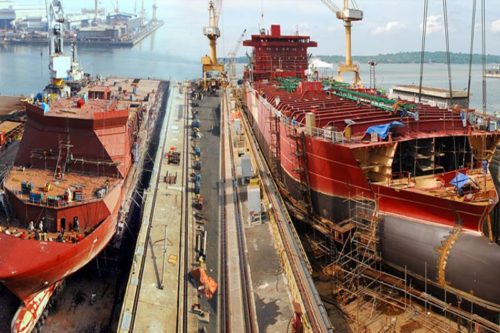 Chairman, Nigerian Institution of Marine Engineers and Naval Architecture (NIMENA), Engr. Henry Unuigbe, has expressed regrets over the state of affairs in the nation's maritime industry.
Unuigbe who spoke at the 7th Annual Conference and Annual General Meeting of the Institute in Lagos on Thursday, lamented that ship building and repair yards, which remain a vital component of the maritime industry, have been neglected over the years with Nigeria losing huge capital flight as indigenous ship owners patronise other countries for ship repair and maintenance.
While calling on the government to create an enabling environment including putting sustainable policies in place in order to attract investment in the ship building industry, Unuigbe noted that critical sectors like the steel industry and power sector which is crucial to ship building are currently in comatose.
Unuigbe also lamented that tank farm owners have taken over the waterfront, a development he said poses challenge to potential investors to sight ship repair yards.
He said, "Investment in ship building is humongous. Government don't need to be an active player, all it needs to do is to create the right environment. There should be power for you to talk about shipbuilding. You must get the steel industry right because those are the essential components of shipbuilding. As at today, our steel industry is in comatose, as the power sector.
"At the time a repair yard like Nigerdock was established; it was the same time Vietnam established its own shipbuilding repair yard. Today, they are doing shipbuilding but here, we are yet to get it right. It shows that over time, we have neglected our key sector. 
"The maritime industry is not an industry to toy with. If other landlocked countries are doing well, there is no reason why Nigeria that is blessed with abundant availability for sea trade should not consider those areas that will improve the GDP of the country.
"Suitability of location of a ship repair yard is an issue that has to be dealt with. Those who are giving licenses to owners of tank farms should think twice and cut the trend because it simply means we are not getting our policies right." 
When asked if the industry has the manpower required to drive shipbuilding, he said, "We need to put up policies to train upcoming engineers. We have competent naval architects and marine engineers. Over time, it will get better but at least, let's begin to have a roadmap."
Unuigbe also called for robust maritime security architecture to tackle the persistent security challenges on the nation's waterways.
He said the situation which has remain unabated has made an Nigeria unattractive destination for ships, resulting in the diversion of Nigeria-bound cargo to other destinations and increased cost of transporting cargo.
"If we must tackle maritime security challenges, we need to eschew some of these parochial interests. Why is it that we are unable to surmount these challenges? 
"I think we should consider the views of those who think that we should have separate maritime coast guard agency. The protection of our water is not only exclusive preserve of the Nigerian Navy, we need to look at our agencies to play complementary role. So if it takes another coast guard to be able to stem the challenges we have in maritime security, so be it," he added.