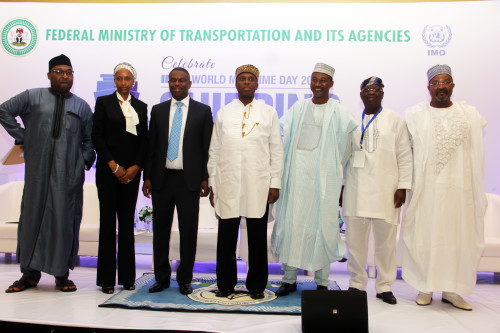 For several decades, successive managements of Nigeria's sole maritime institution, the Maritime Academy of Nigeria (MAN), Oron perpetually induced systemic corruption by covering the institution's contracts from ministerial approvals, giving room for unchecked misappropriation of funds granted to the institution by its main financier, the Nigerian Maritime Administration and Safety Agency (NIMASA).
According to Nigeria's procurement law, all contracts up to N500 million must be approved by the minister, but the successive managements of MAN Oron made sure that all the projects awarded by the school were below N250 million so that they would not need the minister to approve any of the contracts awarded by the institution.
This helped to shield all the projects executed by the institution from ministerial check for more than 10 years, with most of the projects, especially buildings conveniently within about N10 million at individual value. This practice has led to the expending of N19 billion in the last five years with little to show for it.
After several months of maintaining his cool about happenings at the maritime academy, the Minister of Transportation, Rotimi Amaechi has eventually lashed out at successive managements of MAN for misappropriating a whopping N19 billion statutory allocation granted to the academy by NIMASA.
Speaking yesterday at the belated celebration of the World Maritime Day in Lagos, Amaechi said successive managements of the maritime academy in the last five years have nothing to show for the fund they have received from the academy's financier, NIMASA, lamenting that the services of a technical committee or a special consultant would be needed to show the ministry the direction of action necessary to reposition MAN for better image and status.
Amaechi had on resumption of office as minister of transport, suspended the Nigerian Maritime University in Delta State, which had just started its pioneer progrmmes at its temporary campus at Kurutie in Gbaramatu Kingdom, an Ijaw community in Delta State, maintaining that the institution was needless with an already existing maritime academy that could only be upgraded and enabled for higher certification in maritime studies.
But speaking yesterday, Amaechi condemned everything about the maritime academy in Oron, accusing its successive managements of systemic corruption, harbouring a history of procurement system that defiled ministerial involvement.
He also suggested that the academy had been through the years headed by unqualified persons who had poor ideas about how the institution could be advanced and rightly professionalized.
He said, "What I found out at MAN Oron was very disturbing. You can never know who is corrupt until they are arrested. Every Nigerian speak bad about corruption, so who is corrupt?
"The situation at MAN, Oron will need a technical committee, or a consultancy firm to evaluate what the institution has on ground, agree on what to do with money coming from NIMASA and agree on what to do about the institution.
"The buildings in the academy are usually one or two-storey buildings characteristically small and local and within a cost of about N10 million. They tell you they built a tower, but what you see is something else. And one thing we must do concerning that academy is that we have to start appointing educated rectors and not illiterates. We need to carry out a surgery of that institution. We don't need God in this one; God has given the enablement, so what is left is to go and do the work. Once we can turn MAN Oron around, we can start training our cadets locally."
Copyright 2016 Ships & Ports Ltd. Permission to use quotations from this article is granted subject to appropriate credit given to www.shipsandports.com.ng as the source.