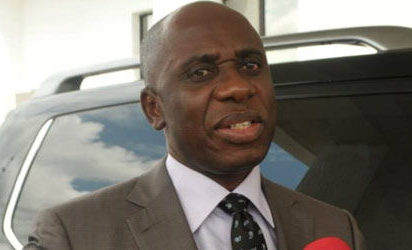 Minister of Transportation, Chibuike Amaechi, Tuesday disagreed with the Senate over the plan of the upper chamber to set up a National Transport Commission (NTC).
The Senate said the commission was meant to regulate the transport sector of the economy, while Amaechi insisted that the Nigerian Shippers Council should be empowered to carry out the responsibilities of the proposed agency.
Amaechi spoke at a public hearing on National Transport Commission Bill.
The public hearing was jointly held by Land Transport, Marine Transport and Aviation committees of the Senate.
Chairman of the Senate Committee on Land Transport, Senator Olugbenga Ashafa, who chaired the hearing, said that new commission will formulate transport policies for the government and private sector.
Ashafa said, "I urge everyone to cooperate with us. This bill is crucial to the survival of our transportation sector of the economy. The establishment of this commission will be responsible for the regulation of transport policies.
"It will monitor the regulation of government policies as they relate to the transportation sector. What I consider most instructive here will be that we now have an agency that will formulate policies for the transportation sector of the economy."
On his part, Amaechi canvassed that the proposed National Transport Commission be incorporated into Nigerian Shippers Council.
He said, "It must be noted that the NTC Bill has similar functions to those being performed by the Nigerian Shippers' Council. Based on the similarities in functions and purposes between the NSC and the proposed NTC, BPE and majority of industry stakeholders, accepted and called for the NSC to be adapted and empowered to perform the functions of the economic regulator.
"Considering the strategic role of the NSC in the Maritime and Transport industry, wealth of experience in economic regulation, resources at its disposal and national spread across the six geo-political zones in the country, it is strongly believed that the NSC can be adapted to become the National Transport Commission
"Therefore, for the National Assembly to proceed with legislative process on the National Transport Commission Bill, to create an entirely new agency, to perform the functions of an already existing one, will amount to duplication of functions/roles and multiplicity of agencies, waste of resources taking into consideration, decline in the national revenue as a result of dwindling oil prices and departure against the current Federal Government's policy of streamlining its agencies for efficiency and cost effectiveness."
Ashafa who countered Minister said, "If you have your submissions, please make them and stop delaying. There are other people waiting to make their presentations. You cannot refer to a matter that was discussed in the House of Representatives.
"This is the Senate of the Federal Republic of Nigeria. The issue you are referring to is about the railway. You were here then and made your submissions."
Copyright Ships & Ports Ltd. Permission to use quotations from this article is granted subject to appropriate credit given to www.shipsandports.com.ng as the source.