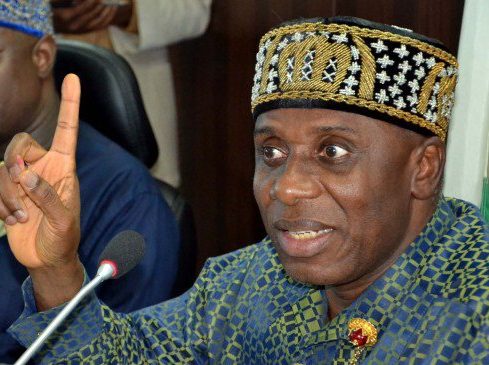 The Minister of Transportation, Rotimi Amaechi, has allegedly been heard in an audio tape released weekend criticizing the government of President Muhammadu Buhari for failing to meet the expectation of Nigerians, saying that under Buhari's government, "the rate of poverty is very high and "the people are hungry".  
The audio recording was shared by a spokesperson for the Atiku Abubakar campaign, Phrank Shaibu. 
Abubakar is the presidential candidate of the People's Democratic Party (PDP) and is Buhari's main challenger in the February 2019 presidential election. 
In the audio recording, Amaechi, who is also the Director-General of Buhari's campaign organization, allegedly portrayed the President as a failure who has been unable to meet the yearnings of various segments of the society.
Amaechi purportedly said, "These are not things you publish ooo. If you publish them, you will never sit with me any day.
"Three years of Buhari oo, everybody is crying, crying… pressmen are crying, farmers are crying, workers are crying, politicians are crying, students are crying, three years oo!
"The rate of poverty is very high. The people are hungry. Nigeria will divide!"
Amaechi also said Buhari hardly listens "to anybody". 
According to him, "The President does not listen to anybody. He doesn't care. You can write what you want to write. The President doesn't care. Does he read? He will read, he will laugh. He will say 'come, come and see, they are abusing me here'.
"In fact, there was one case of somebody in Onitsha, a trader in Onitsha who couldn't sell his goats during Sallah. And I was with Oga on the plane and the man was busy abusing Buhari. He said, 'Amaechi, come, what is my business with Onitsha goat seller?'" 
Amaechi was also heard saying that Nigeria was hopeless, and the only way for the country to make progress is for "everybody to be killed".
He said a university would be built in his village after one is built in Daura, hometown of President Muhammadu Buhari in Katsina State.
"This country can never change, I swear. The only way this country can change is in a situation where everybody is killed. 
"This country is going nowhere. When Magnus (Abe) was Secretary to the Rivers State Government (SSG), I told him that this country is hopeless and helpless and he told me, 'Oga, stop it', this cannot be coming from a governor.
"But two months in Abuja, Magnus came to meet me and said, I agree with you; this country is hopeless and helpless. All they do in Abuja is to share money.
"I have already written to the governor of Katsina State and I don't know why he has not replied to give us the land in Daura for a university in Daura. 
"The next university would be in my village. There is a popular saying while we were growing up that charity begins at home. Will my own begin abroad?" Amaechi said in the audio.
Amaechi's spokesman, David Iyofor, said the Minister's team would review the audio recording and make comments at the appropriate time.   
Commenting on the leaked audio, Atiku campaign's spokesperson, Phrank Shaibu said the recording has shown that even the President's appointees lacked confidence in his ability to transform the country.
He said, "The President should just quit honourably instead of wasting taxpayers monies on a failed reelection bid.
"The truth is that the other day, the President confessed that the economy had collapsed under his watch.
"On another occasion, the wife confessed to the fact that, the canal and not her dearest husband, President Buhari was in-charge of the country and now, the Director General Of his re-election campaign has confessed to the lack of capacity of President Buhari and the dismal failure of his administration.
"Truth is, the President has established a record of failures which probably no other President would ever equal or erase. Mrs Aishat Buhari was partially correct when she stated that two people are preventing her husband from performing well. With this audio tape, if the two don't include her husband then she is not completely being truthful."
Copyright Ships & Ports Ltd. Permission to use quotations from this article is granted subject to appropriate credit given to www.shipsandports.com.ng as the source.