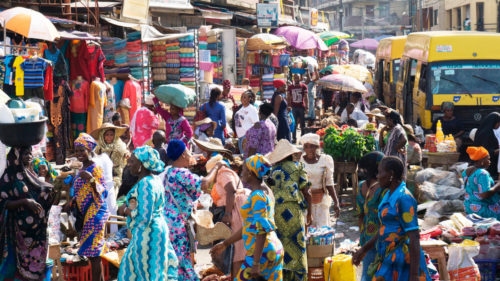 Happy New Year, my esteemed reader. We are in that time of the year when optimism is high, and people make resolutions. Very often, the resolutions are mere wishes. They fail to acquire the power of guiding principles of actions. Well, whatever resolutions you have made I hope that you will muster the will power to make them your lodestars. Dreams do come through. I am optimistic that with a fine blend of ethics, diligence, situational awareness, and readiness to take risk, your dreams will flourish in 2019 in spite of grim economic forecasts.
EY EMEIA Global Fraud Survey 2018 shows the perceptions of respondents to the ubiquity of bribery and corrupt practices in business. Out of 55 nations surveyed, Nigeria ranks third. 90 percent of the respondents in Nigeria say that corruption is endemic in our business world. Brazil tops the rank. 96 per cent of respondents in Brazil indicate that corruption is rife in their business environment. Colombia comes before Nigeria; 94 percent of the respondents say that corruption is widespread in their world of business. In fact, the survey shows that corruption is a global menace; it is not peculiar to Nigeria as some of our patriots often think.
According to EY EMEIA, "Between October 2017 and January 2018, our researchers — the global market research agency Ipsos MORI — conducted 2,550 interviews in the local language with senior decision-makers in a sample of the largest companies in 55 countries and territories. The polling sample was designed to elicit the views of executives with responsibility for tackling fraud, mainly CFOs, CCOs, general counsel and heads of internal audit."
Adherence to ethical stipulations are good for businesses. They shape the business environment of a nation for good. Business failure is a daily occurrence where corruption is rife. Unsurprisingly, business mortality rate is very high in our clime. The Executive Vice Chairman, CEO, Nigerian Communications Commission (NCC), Prof. Umar Garba Danbata, identified "weak or complete absence of corporate governance structures" as a possible cause of failure of some companies.
According to him, "A strong corporate governance culture in an organisation encourages success and business sustainability. In an emerging economy such as ours, corporate governance is predicated on the need to entrench a control system, which increases shareholder value, as well as exceeding the expectations of other stakeholders".
Corporate governance is largely seen as "the mechanisms, processes and relations by which corporations are controlled and directed". It is also seen as the rules and procedures that govern decision making in corporate businesses. Clearly, ethics cannot be divorced from it.
Weak business ethics is widespread in Nigeria, because, merit hardly counts. Favoritism is the order of the day. Nigeria makes an excellent case study of the peril of crony capitalism. Here, contracts are awarded on the basis of who you know. What you know, your professional pedigree or impressive performance history are hardly considered when business decisions are made in many supposedly highbrow quarters. This tends to foster a sense of entitlement. Naturally, mediocrity is a hallmark of any business done with a sense of it is my right to get it, as opposed to I have the capacity to do it well and do it right. If merit counts, ethics will take root. Indeed, the converse is true as well; if ethical principles govern how businesses are transacted, a system of meritocracy will emerge. And when merits truly count, social mobility will become an intrinsic definer of the Nigerian dream, like it is with the American dream. I yearn for the dawning of that day.
Another reason why codes of business conduct and ethics merely exist on paper in Nigeria is because, corruption pays. The penalties of corruption in Nigeria are very much like a slap on the wrist, particularly, when juxtaposed with China. In China, many business leaders and public officeholders would rather commit suicide than face the consequences of their business misconducts. There are certain cultural and legal practices that incentivize corruption in Nigeria. For example, lawyers could deploy Machiavellian legal antics to ensure a corruption case remains in the court forever.
Again, stories of corporate malfeasance do not get sustained media attention, like that of corrupt politicians or bureaucrats. One exception that readily comes to mind is that of the sacked former Chief Executive Officer of Cadbury Nigeria PLC, Mr Bunmi Oni. One reason why it got sustained media attention could be attributed to the fact that before the scandal of Mr. Oni and a certain coconspirator involvement in overstating Cadbury's account for some years, Mr. Oni was the poster child of a high flying ethical business leader in Nigeria. He was the most sought-after teacher of business integrity in religious, para-religious and professional circles.
The ethical climate in our business world is not better than that of the political sphere. It is also not better than it was in 2006 when Cadbury Nigeria PLC became known for unethical business conduct. For, as many as "77 per cent of board members or senior managers say they can justify unethical behaviour to help a business survive." In other words, many business owners and leaders in Nigeria are not only prone to corruption, they can rationalize it. They are prone to theorizing about the essentiality of corruption to business development. Sad.
To be candid, in times of economic downturn, pragmatism says, "it pays to cast off the rulebook", "if you do not lessen your standards, you cannot survive".  In fact, in this era of ethical relativism and situational ethics, the new rule of business prosperity seems to be  "compromise or die", "compromise and flourish". This is what Ralph Waldo Emerson was alluding to in a statement credited to him: "In failing circumstances no one can be relied on to keep their integrity." This raises a question. If integrity is vendible or fickle, why is it so desirable? For me, "integrity" that cannot be relied on in austere times equates to a cosmetic pillar made by pragmatists, while integrity that is not vendible is a functional pillar in any noble enterprise.
Pragmatism would always elevate results above ethical principles. For, it is essentially a hands-on way of dealing with problems, mainly concerned with results. It does not care about principles.  In other words, the pragmatic business leader scoffs at ethics, and applauds underhand business achievements or what we may call vendible integrity.
Due to grim economic forecast, it is apparent that 2019 will be largely defined by a clash of pragmatism and ethics. When executives are fighting for business survival very few think of ethics, they quickly clutch at the straws of pragmatism. The danger with this strategy is that it guarantees fleeting respite, but opens the doorway to future woes. So, it is hardly an option for business leaders who are future minded, particularly, those who aspire to be legacy builders.
Every legacy builder in the business world accentuates one principle; do it well and do it right. This is because they know that excellence and ethics are interlinked.  At best, a culture of service excellence is a condition for success. However, without solid ethical foundation a business cannot thrive and soar to the stratosphere of enduring significance. For us to have multi-generational Nigerian businesses, like Coca Cola, which was founded on 29 January 1892, or Ford Motors, which was found on 16 June 1903, and are still thriving and soaring, we need future-oriented ethical business leaders. I mean smart executives who are capable of making excellent service delivery and ethical conducts cornerstones of their business empires.
As a nation we cannot explore new frontiers of economic development that the digital revolution presents without strengthen our ethical framework for business operations. One of the causes of the ongoing trade hostilities between America and China is unethical business conducts, particularly, systematic violation of intellectual property rights. Sometimes, we like to pretend as if we do not know that global economic agents shun people and places where honesty, integrity, and truthfulness are not integral to their organizational culture. Said pointedly, as long as we are reputed for poor ethical values, Nigeria cannot attract foreign investors that will significantly contribute to our economic development.  So, as we are thinking of an integrated economic development plan, we must think of models of ethics-driven sustainable development.
One person can change a nation. As a business person you can, if your resolution is to become the first reference of ethical prudence in the business world. Before long your reputation will become a door opener. It will spur many business leaders to emulate your examples. If we all endeavor to make Nicholas Sparks' epigram an article of faith: "In the end you should always do the right thing even if it's hard", Nigeria will be a better place to do business.