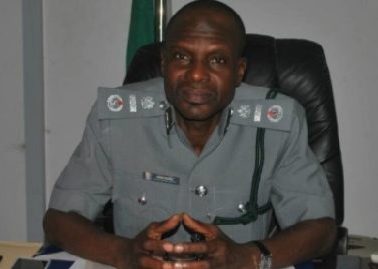 The Nigeria Customs Service has debunked allegations leveled against its officers that they are impeding quick clearance of goods at the ports thereby frustrating implementation of the executive order on the ease of doing business at the port. 
A representative of the Presidential Enabling Business Council Environment (PEBEC), John Oboh, had at a stakeholders' forum recently in Lagos accused Customs of becoming a stumbling block to the executive order.
Oboh had criticised the Customs for incessant interception of goods cleared at the ports, saying it is against international best practices. 
According to him, there is no reason why operatives of the Customs should be stopping containers on the way, particularly within few meters after the port gate for another round of checks.
But speaking in a chat with SHIPS & PORTS DAILY on Friday, the Zonal Coordinator, Zone A of Customs, Assistant Controller General, Aminu Dahiru, said the service would not encourage the ease of doing business at the expense of the security of the nation.
He noted that to facilitate cargo clearance does not mean imports regulations should not be adhered to.
"I always see such utterances as apportioning blame to an innocent person. Do they expect Customs because of ease of doing business to stop examining containers to compromise security?
"Do they know the status of our scanners at the seaports? The scanners are not working and are we the one to provide scanners? So for anybody to think that we are an impediment to ease of doing business, I challenge that person to come and tell me how and why customs should be accused.
"You cannot tell me that you make declaration that raise suspicion and I should just allow you go because I am trying to support ease food doing business to the detriment of revenue and security? Ease of doing business says you should be compliant and once you are, it will be easy for you to go. But when you are not compliant and you expect me to let you go, it is not going to be possible.
"So such cry, I always see it as coming from people who do not understand how customs operate. An agent knows what is on ground when it comes to releasing of goods at the ports. He knows we have gone far compared to what it used to be before and now, so let them try as much as they can to comply with the rules and regulation of importation. If that is done all this issue of interception of container would have come to an end," he said.
On the proposed closure of land border by the government over rice smuggling, Dahiru welcomed the idea saying it will go a long way in curbing the influx of smuggled rice into the country.
According to him, if the borders are closed, Customs would then focus more attention on the illegal routes.
"Let there be a total closure of the border, therefore the movement of rice will be restricted. With such on ground, we will see that we have more to do but with less to cover because if the border is closed, we will only concentrate on other illegal routes.
When asked if customs have the logistics to man all the illegal routes, Dahiru who acknowledged the porous nature of the borders said, "We did not have the staff strength to cover all the illegal routes but we will try our best within the limited resources we have because that is what we have be doing for a long time."
Copyright Ships & Ports Ltd. Permission to use quotations from this article is granted subject to appropriate credit given to www.shipsandports.com.ng as the source.