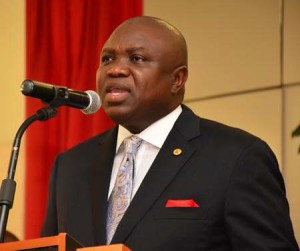 Lagos State Governor, Akinwunmi Ambode on Tuesday presented the 2017 budget of N812.99 billion to the State House of Assembly for approval.
The budget, tagged: "Golden Jubilee Budget" is N150.4 billion higher than the 2016 budget which stood at N662.58 billion
The 2017 budget has a Capital Expenditure of N512.46 billion and a Recurrent Expenditure of N300 billion. The Capital and recurrent ratio of the budget stood at 63:37.
The governor said a large chunk of the budget would be expended on road construction and rehabilitation, health, among others.
Ambode recalled that his administration budgeted N662.58 billion in 2016 and that the budget, as at October 2016 performed to about 77.5 percent, which is equivalent to N350 billion.
According to Ambode, "we have maintained a conservative approach in estimating our Federal Allocation due to falling oil prices that was about$41.98per barrel at the time we finalized this budget; however the State expects an increase in Federal allocation through 13% derivation from Oil and Gas in 2017.
"In view of our financing gap, we shall continue to sustain deficit financing in the short-to-medium term; enhance revenue growth throughout the year on several initiatives including automation and efficient revenue administration".
"We would explore more collaborations with local and international investors through Public-Private Partnerships (PPP) especially in the areas of Road network expansion, Transport; Housing, and the Environment," he said.
Ambode said the sectoral allocations as proposed in this budget would be distilled further by the Commissioner of Finance later in the day.
"We will equally continue implementing the ease of doing business reforms – starting a business, property registration, tax payment, e-GIS/ Smart City project, continue to encourage investments in Lekki Free Trade Zone (FTZ), Badagry Deep Sea port and the Eko Atlantic project. We will remain steadfast in our responsibility to make the State safe and secure for all our citizens. We will continue to invest in Security. The Neighbourhood Safety Agency will become fully operational by 2017 with presence in all our Local Governments and LCDAs," he added.
The governor said a key focus of the budget for the 2017 is road construction, rehabilitation and maintenance, saying that the government would focus on roads that would open up the hinterlands, improve connectivity in the State and reduce travel time.
He added that government would commence the Phase II of the 114 Local Government Roads project and the Fourth Mainland Bridge in 2017, adding that in the course of the 2017 Financial Year, "we shall carry out fundamental reforms on all our modes of transportation – roads, water and the walkways. In this wise, a Public Transport Infrastructure Bond will be issued in the course of the year."