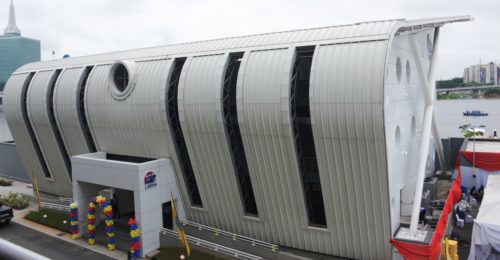 Governor of Lagos State, Akinwunmi Ambode on Thursday, commissioned an ultra-modern ferry terminal at the headquarters of the Lagos State Waterways Authority (LASWA) in Falomo.
He said that no efforts would be spared to harness the potentials of water transport sector for the overall benefit of residents.
Ambode, who was represented by the State's Attorney General and Commissioner for Justice, Adeniji Kazeem, also commissioned a Multi-level Car Park within the same premises, said the unveiling of the edifice which was delivered through a Public-Private Partnership (PPP).
The governor stated that completion of the project, which started seven years ago, was a demonstration of the appreciation and recognition of the efforts of the State Government toward the overall development of water transport sector in the State.
He said, "In furtherance of our commitment to develop the water transportation system which is an integral component of the Lagos State Multi-Modal Transport System, we have invested significantly in the provision of water transportation infrastructure especially the rehabilitation of existing and construction of new Jetties; purchase of two clearing machines with navigational equipment to tackle the challenges posed by water hyacinth and the ongoing installation of safety signs for routes demarcation, among others.
"In addition, we have concluded plans for the procurement of seven high-capacity passenger ferries to complement the existing ones, while we also plan to assist commercial ferry operators to acquire new standard boats.
"All of these are with the intent of encouraging more private sector investment in water transportation. The long-term objective is to reduce the pressure on our roads as our people increasingly embrace water transportation system."
In his opening remarks, General Manager of LASWA, Oluwadamilola Emmanuel, commended the state governor for his unparalleled commitment and support towards the upgrading, construction and equipping of waterways infrastructure in the state.
He said that the new imposing edifice, among other ongoing projects on the waterways, aptly demonstrated such investments and reforms in the sector.
Emmanuel disclosed that the terminal is expected to attract new investors, boost water transportation and reduce vehicular traffic on Lagos roads and also complement the efforts of the Lagos State Government towards promoting Inter-Modal Transport System in the State thereby increasing the efficiency of government interventions in the sector.
Facilities at the ferry terminal include a ticketing point, passenger lounge, VIP Lounge, elevator, standard conveniences, among others.