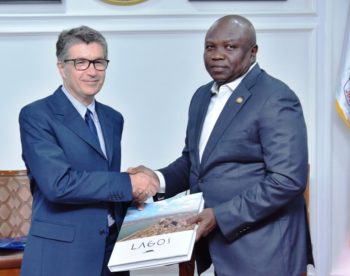 Lagos State Governor, Akinwunmi Ambode has urged the World Bank to consider partnering with the state government in financing key projects in transport, energy and water sectors.
The governor noted that such collaboration would positively impact the economy of not just the state but the country at large.
Ambode made the call in Alausa, Ikeja during a courtesy visit by Executive Directors of World Bank led by Patrizio Pagano on Wednesday.
Ambode said though the state government in the last three years had hugely invested in provision of infrastructure across all sectors and sections, collaboration with the bank in key sectors in the state would go a long way in boosting the economy and making life comfortable for the people.
According to him, available statistics from the United Nations confirmed the fact that an average of 86 people enter into Lagos every one hour which is the highest in the world, while the population of the state was now around 24 million, with attendant impact on infrastructure and other social amenities, adding that the complexity of the State makes the need for support in funding key projects more compelling.
He said, "The significance of Lagos to the overall economy of Nigeria itself is not what we want to toy with and so when I read in the brief that the delegation would be coming to Lagos, I thought it was a very good decision that you would be able to see some of the sectors and some of the impact we have made.
"So, if the World Bank were to generally support the development of the Nigerian economy, beyond the fact that you would be having anything to do with the Federal Government, I think that the greater part of what you should concentrate on should be issues that relate to major sectors that have to do with Lagos because anything that is driven by Lagos more or less has an overall positive impact on the Nigerian economy."
Earlier, Pagano said the delegation, which consists of 10 World Bank Executive Directors representing 96 countries, was in Nigeria to study the challenges and expectations of the partners in West Africa from the bank, saying the team was delighted to learn the challenges faced by Lagos, which he described as Nigeria's most dynamic state.