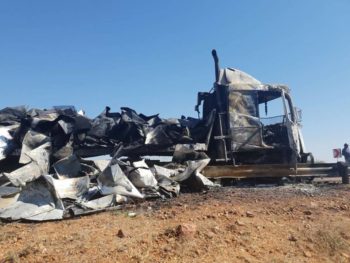 Protesters on Wednesday hurled petrol bombs at three Zambian-registered trucks in South Africa, leaving one of the drivers with life-threatening injuries.
Officials said this is the second attack on foreign vehicles there in two weeks.
Zambia urged South Africa's government to do more to protect its nationals, saying the assaults could hurt international trade.
Police said at least some of the attacks were carried out by people angered by truck companies hiring foreign drivers.
Three trucks were destroyed by petrol bombs in two separate attacks in Limpopo Province on Wednesday evening, Zambia's High Commission in Pretoria said in a statement.
One of the Zambian drivers was attacked as he drove to Groblersbrug, a border crossing with Botswana, it added.
Last week attackers burned around 30 foreign-owned trucks more than 800km (500 miles) further south on the N3 toll road in KwaZulu-Natal province, the High Commission said on Thursday.
At least three of those trucks were Zambian, it added. Police said they did not know the nationalities of the other drivers.
"There were many trucks burnt … The protesters were complaining that truck owners are only hiring foreign nationals," said KwaZulu-Natal police spokesperson, Colonel Thembeka Mbele.
Zambia's High Commissioner, Emmanuel Mwamba, said the attacks could "halt the movement of goods and services between the two countries."
Most of Zambia's copper exports reach the international market via South Africa's roads and through its port at Durban.
Zambia's got 27.5 percent of its imports from South Africa in March, Central Statistical Office data shows.
Agency Report