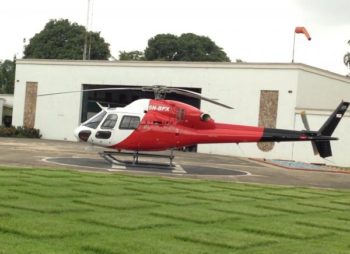 Asset Management Corporation of Nigeria (AMCON) and Odengene Air Shuttle (OAS Helicopters) have began talks over debt payment plan and withdrawal of a takeover bid of the helicopter service company.
AMCON, which sealed the company a fortnight ago, said essence of the action was to draw attention of the management, which OAS is currently doing to resolve the issues.
The AMCON's seal and marks on the company's property have been removed, with the company operating without hinderance. OAS is said to have made a good response, bordering on finance and business programme that impressed AMCON.
Head of Corporate Communications, AMCON, Jude Nwauzor, said that their intent was never to hinder any organisation or shut any.
Rather, AMCON will encourage such companies to reach their goals, especially if the goals are clear with plans to pay what they are owing the government.
The CEO of OAS, Capt. Evarest Nnaji, confirmed the talks with AMCON, giving assurance on reconciliation. Nnaji noted that the company's flight activities were never interrupted, even during the period it was negotiating with AMCON and commended the willingness on both side to reach an amicable settlement.
He added: "AMCON was purely professional in the negotiation and we, as a law abiding organisation, are ever eager to abide by the rule of law. So, our flights were never hindered one bit. I wish to let you know that the matter has been amicably resolved," the CEO said.