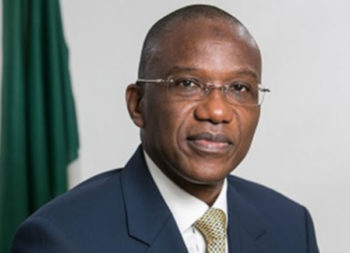 Asset Management Corporation of Nigeria (AMCON) says it recovered about N134 billion in cash and assets in the 2016 fiscal year, and hopes to do even more in 2017.
Speaking at a press conference in Lagos on Friday, the management of Nigeria's bad bank gave updates on its financial accounts for the 2016 fiscal year, and expressed optimism for better results in 2017.
Olugbenga Ataiyero, head, finance and budgeting, who unveiled the bank's financial  records for 2016, said the company posted a stand alone loss of N254.34 billion in, improving its records by N49.86 billion as against N304.2 billion posted in 2015.
Its credit losses turned positive as net gain on financial assets moved from N10 billion in losses  in 2015 to N17 billion in profit by 2016.
However, due to losses suffered from its subsidiaries, AMCON's consolidated losses grew N295.45 billion in 2015 to N352.15 billion in 2016.
Ahmed Kuru, the managing director of the bank, said AMCON is not set up to make profit, but set up to save the economy from bad debts and subsequent financial crisis.
"AMCON is not set up to make up profit; AMCON is a resolution company, a resolution vehicle that was set up in 2008, 2009 to provide liquidity to commercial banks by purchasing non-performing loans, so that it could jump start the economy," Kuru said.
"Based on that model, for AMCON to make profit, the economy must be very very bouyant, even some of the climes, save for Malaysia, all the other climes that have used this model (post losses).
"US is in deficit of almost $1.01 trillion up till today in its asset management and they have not gotten out of it."
He said the bad debt bank is expected to pay as much as N280 billion in interest to the Central Bank of Nigeria (CBN) on a monthly basis.
Kuru added the CBN has been extremely supportive with the six percent interest rate granted to the bank, but the mass of debt acquired by the bad bank makes interest sizeable.
Kuru said AMCON is in discussions with the central bank to reduce interest rate, even if by just two percent.
"Every month averagely, our interest obligation to the CBN is N280 billion, interest only. Sinking fund projection of maybe N288 billion, we only receive N136 billion," he said.
"There was this assumption at that time that the economy will grow at a rate of six percent year in, year out. The banking sector is not even growing at the rate of five percent.
"There is this assumption that I will be able to collect cash, get obligors to come and pay me, I'm not getting 20 percent from them. So, I'm sitting with debt that I am servicing and I am sitting with assets that are not even earning. Some of them I have to pay for security guards to massage them."
He said the management is working on fulfilling its mandate within the 10-year period stipulated in the AMCON act, but admits that there is a possibility of an extension.  
Copyright Ships & Ports Ltd. Permission to use quotations from this article is granted subject to appropriate credit given to www.shipsandports.com.ng as the source.