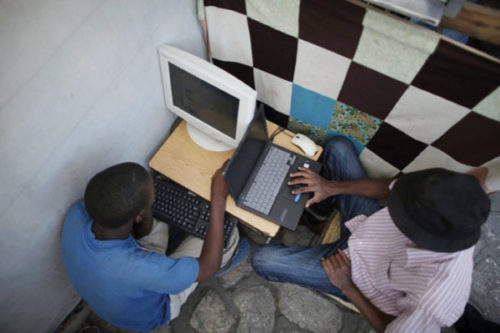 An American comedy series titled Bunk'd has taken a swipe at Nigerian fraudsters, otherwise known as Yahoo Boys, who specialise in duping unsuspecting foreigners.
Bunk'd, a comedy television series created by Pamela Eells O'Connell, premiered on Disney Channel on July 31, 2015, and is a spinoff of another comedy series titled Jessie.
In Season 1 Episode 11 of Bunk'd titled 'There's No Place Like Camp', one of the characters named Gladys uses a website where she finds a possible love interest in a "Nigerian Prince" and prepares to meet him despite Lou's warnings about it being a scam.
The following conversation ensued between her and four girls in the camp:
Gladys: Ladies great news.
Lou: You finally got rid of the water rat in the lake?
Gladys: Why will I want to do that? They eat all the garbage. The news is my boyfriend just asked me to marry him!
Tiffany: You're engaged?
Zuri: Someone likes you?
Emma: There are rats in the lake?
Gladys: I met him last night online on my favorite dating site desperately seeking anyone and the best news is he's a Nigerian Prince, don't be jealous!
Lou: Gladys, the Nigerian Prince thing is a well-known online scam.
Gladys: Not true, my beloved Prince Mutabo is giving me the largest diamond from the crown jewels for my wedding ring!
Zuri: Let me guess, he just needs you to send him a few hundred dollars to help with the shipping cost?
Gladys: No. A few thousand!
Emma: That's a lot of bubble wrap.
This episode garnered 1.9 million viewers.
Some Nigerian youths known in local parlance as Yahoo Boys are known to perpetrate advance-fee scam, which is a form of fraud and one of the most common types of confidence tricks.
The scam typically involves promising the victim a significant share of a large sum of money, in return for a small up-front payment, which the fraudster requires in order to obtain the large sum. If a victim makes the payment, the fraudster either invents a series of further fees for the victim or simply disappears.