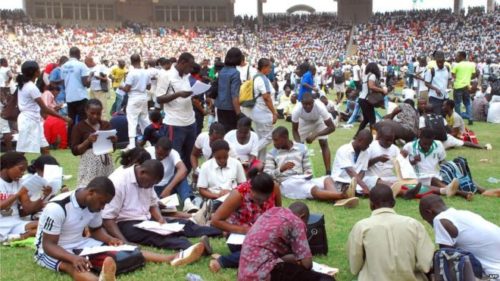 The Nigeria Customs Service (NCS) said a total of 828,328 Nigerians applied for 3,200 jobs in its 2019 recruitment, which closed on Monday, May 7, 2019.
Customs National Public Relations Officer, Deputy Comptroller Joseph Attah, who disclosed this in an exclusive chat with SHIPS & PORTS on Monday, however, said that only 524,315 candidates successfully completed the application process while 156,948 registered but did not complete the process.
According to him, out of the 524,315 candidates; 278,582 applied for employment in the Customs Superintendent cadre while 120,184 applied for the positions in the Inspectorate cadre. He said 115,987 for the Customs Assistant cadre.
"All in all, 828,333 visited the site, some registered but could not complete the application process. For those who started and completed the process of application properly and the system accepted them, we have a total number of 524,315.
"We have a total number of 156,948 applications hanging. This means that they started the process but they could not finish until the time elapse and the system shut down," the Customs spokesman said. 
Attah said the process of screening the applicants is ongoing noting that only shortlisted candidates will be invited for interview.
"Now that the system has been shut down, what is going on presently is screening, which is being done electronically because we have parameters that have already been key into the system.
"For instance, we discovered some people who read History, Geography and Biochemistry applied for marine related jobs. So the system will weed out all these parameters that have been filled in and then bring out those whose documentation are directly relevant to the position advertised. 
"When that is done, that would be the shortlist. All those on the shortlist will receive an email inviting them to go for examination and other screening that will follow," he said.
The NCS spokesman used the opportunity to warn prospective job seekers to be wary of internet fraudsters who may want to introduce other recruitment portals to extort money from unsuspecting members of the public, stating that the official Customs recruitment portal has closed.
"We are aware that internet fraudsters will want to cash in at the moment and introduce all sorts of portals. The Customs portal has closed and therefore any invitation to visit any site especially on the social media are fake and the handiwork of fraudsters who want to extort money from desperate applicants," he said. 
The NCS had on Wednesday April 17 opened its portal for recruitment of only 3,200 people.