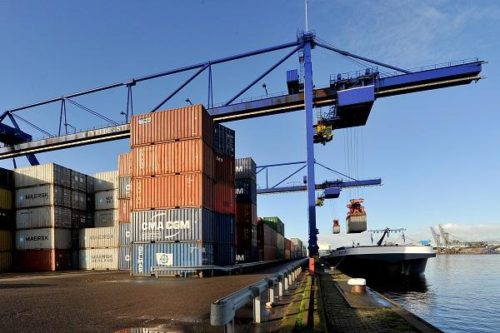 Port of Amsterdam achieved a new transhipment record in 2018 with transhipment totalling 82.3 million tonnes, compared to 81.3 million tonnes in the previous year. Together with the other ports in the North Sea Canal Area, total transhipment consequently amounted to 101.8 million tonnes in 2018.
This is revealed in the provisional transhipment figures announced today. Transhipment in IJmuiden rose by 1% to 18.6 million tonnes. Beverwijk saw transhipment decline by 9% to 0.7 million tonnes. Transhipment in Zaanstad was down 30% to 0.2 million tonnes.
The record set by the Port of Amsterdam is primarily attributable to a 19% increase in the transhipment of agribulk to 8.4 million tonnes and 68% growth in the transhipment of containers. This sharp rise is due in part to Samskip's regular liner service to the UK. Transhipment of construction products also rose by 8% to 7.4 million tonnes.
Other liquid bulk cargo, such as basic chemicals, rose by 23% to 2.7 million tonnes. Other dry bulk increased by 13% to 2.9 million tonnes and transhipment in Ro/Ro and other breakbulk rose by 24% in 2018 to 2.3 million tonnes.
The transhipment of total fossil cargo decreased in 2018. Coal fell by 18% to 13 million tonnes. This is the fourth consecutive year that there has been a decrease in coal transhipment. The transhipment of oil products stabilised in 2018 at 44.5 million tonnes.
Imports at the Port of Amsterdam stabilised at 50.6 million tonnes last year. Exports on the other hand were up by 3% at 31.7 million tonnes.
A total of 43 hectares of land was leased out to companies in 2018, compared to 18 hectares in 2017. Large parcels of land were leased to companies including Fetim (9 hectares), Commodity Centre Netherlands (6 hectares) and Delin (5 hectares). A number of new companies, such as Integrated Green Energy solutions (IGES) and Plastic Recycling Amsterdam (PRA), also opened locations on existing lots. This has transformed the Amsterdam port area into a genuine circular plastic hub, with PRA turning recyclable plastic into raw materials for new plastics. IGES converts non-recyclable plastics into marine fuel.
Koen Overtoom, CEO of Port of Amsterdam, said, "The level of transhipment in 2018 marks an all-time high for the region and Amsterdam. We are seeing our strategic choices to diversify reflected in the growth of the different cargo flows. We are becoming less dependent on fossil. The economic growth in the Netherlands is also mirrored in the increase in the transhipment of construction materials and the leasing out of land in the port area." 
Amsterdam received 180 sea cruise ships in 2018, including 117 cruise calls and 63 turnarounds. 2018 was a record year. The number of sea cruise passengers remained approximately the same as the previous year at 425,600. The number of cruise ship calls in IJmuiden totalled 30, compared to 23 in 2017. The number of river cruise ship calls amounted to 2007 versus 1876 in 2017. 
Copyright Ships & Ports Ltd. Permission to use quotations from this article is granted subject to appropriate credit given to www.shipsandports.com.ng as the source.