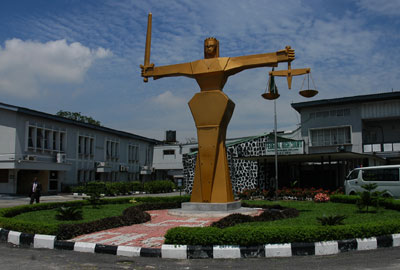 Some members of the Association of Nigerian Licensed Customs Agents (ANLCA) have approached a Federal High Court sitting in Lagos asking it to nullify the election that produced Taiwo Mustapha as the Chairman of the association's Board of Trustees (BoT) on April 13.
The suit instituted by Osita Madueme and Lawrence Uba joined the Registered Trustees of ANLCA, its President, Tony Iju Nwabunike, and Mustapha as defendants.
In the suit filed on July 10, a copy of which was obtained by SHIPS & PORTS DAILY, the plaintiffs are seeking for an injunction restraining the Registered Trustees of ANLCA and Nwabunike from recognizing Mustapha as the BoT chairman.
The plaintiffs further prayed the court for an order of injunction restraining Mustapha from parading himself or acting as ANLCA BoT chairman.
They also sought for an order of court declaring void the purported election to change the leadership of the board of trustees on April 13 "and the communiqué issued thereof".
The plaintiffs also sought for a declaration that it is illegal, void and unconstitutional under ANLCA's supreme constitution for the purported members of its BoT to change or attempt to change the leadership of the board after two years or any year within its six-year tenure.
Specifically, the plaintiffs are asking for a declaration that the BoT members who allegedly changed its leadership on April 13 acted illegaly and contrary to section 683 of the Companies and Allied Matters Act (CAMA). 
The plaintiffs further prayed the court for a declaration that any replacement or appointment of additional trustees made without the assent of the CAC is void adding that is it only when CAC gives its assent upon application by ANLCA that any appointment of a trustee can be valid.
The defendants are expected to attend the Federal High Court, Lagos Judicial Division within 30 days after the service of summons on them.
Meanwhile, the ANLCA BoT Secretary, Taiye Oyeniyi has notified the association that Taiwo Mustapha has officially assumed leadership of the board.
In a letter dated July 16 and addressed to the President of ANLCA, Iju Nwabunike, a copy of which was sighted by SHIPS & PORTS DAILY, Oyeniyi said this followed the expiration of the three months transition period granted to Henry Njoku to conclude exit as chairman of the board after 10 years in the saddle.
He said, "You will recall that the election for change of leadership of the Board of Trustees which was held on April 13 at Golden Tulip Hotel and your subsequent meeting with the members of the board for extension of time to enable the outgone Chairman Chief Henry Njoku, to hand over to the new leadership of the board.
"At that meeting an extension of 90 days was agreed upon for the former chairman to hand over. That 90 days extension expired on July 12.
"Therefore, we are by this medium informing you that the new chairman of the board has assumed office on July 13 and would be assisted by Vice Chairman, Chief Dennis Okafor and Prince Taiye Oyeniyi as Secretary."