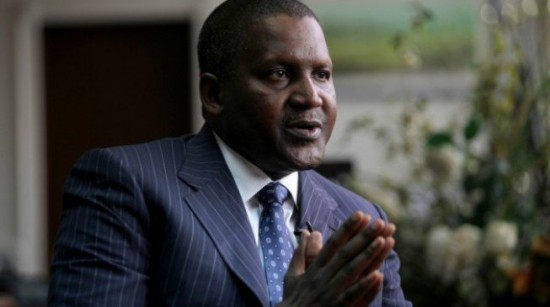 By Patience Danjuma 
Africa's richest man and President of Dangote Group, Alhaji Aliko Dangote, has asked the Federal Government to take drastic action against Benin Republic over smuggling of products from the country into Nigeria.
Dangote said this on Friday while responding to questions from journalists at the end of the industrial policy and competiveness advisory council meeting presided over by Vice President Yemi Osinbajo at the presidential villa, Abuja.
Dangote said the porous border at Benin Republic is encouraging dumping of smuggled goods in Nigeria. 
This, he says, poses a threat to the economy of the country and jobs of thousands of Nigerians.
A recent World Bank report on smuggling showed that about N1.45 trillion worth of goods are smuggled into Nigeria annually through Benin Republic.
At the meeting, Dangote said about 600,000 tonnes of sugar are smuggled into Benin Republic, 60 percent of which he says, makes its way into Nigeria.
"It is very very deep. The biggest issue and challenge for the economy and also for the manufacturing has to do with smuggling and I think unless we really take a very drastic action against the Republic of Benin, I don't think we are really going to be successful.
"You know we have to attack it from two fronts, one, is stopping the Republic of Benin from promoting smuggling into Nigeria and two, to ensure we stop those who are patronising the goods in the market, that is to stop people from selling smuggled goods.
"This is crippling our economy and not allowing us to create jobs. It is allowing us to create more poverty because some of our businesses are shutting down. If you are shutting down, you are creating more job loss rather than employing more people.
"The drastic action that should be taken is any action that will stop the Republic of Benin encouraging people to come and dump goods in Nigeria. There are so many of those goods being dumped here. It has to do with textiles, sugar, pasta, vegetable oil, arms and ammunition among others. This is because smuggling has really gone out of control and we need to really do something," Dangote said.   
Copyright Ships & Ports Ltd. Permission to use quotations from this article is granted subject to appropriate credit given to www.shipsandports.com.ng as the source.